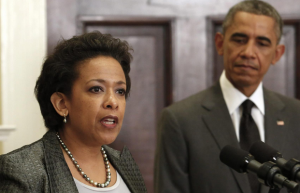 Sens. Ted Cruz and Mike Lee are pledging to delay the confirmation of President Barack Obama's attorney general nominee Loretta Lynch, according to a joint statement released by the senators.
Cruz and Lee said Lynch deserves thorough consideration but should not be confirmed during a lame duck period after voters decided in favor of a Republican majority in the Senate. They also said Lynch should specify whether or not she thinks President Obama's "executive amnesty plans are constitutional and legal."
Here's the full statement:
"President Obama's Attorney General nominee deserves fair and full consideration of the United States Senate, which is precisely why she should not be confirmed in the lame duck session of Congress by senators who just lost their seats and are no longer accountable to the voters. The Attorney General is the President's chief law enforcement officer. As such, the nominee must demonstrate full and complete commitment to the law. Loretta Lynch deserves the opportunity to demonstrate those qualities, beginning with a statement whether or not she believes the President's executive amnesty plans are constitutional and legal."
Senate Majority Leader-to-be Mitch McConnell and others have also said the confirmation process should take place in the next Congress. Lawmakers return to D.C. this week to finish out the 113th Congress, and Democrats have not yet announced a timeline for Lynch's confirmation hearings. President Obama announced his nomination of Lynch on Saturday, just before embarking on a trip to Asia, in hopes that her confirmation hearings would take place while Democrats still control the Senate.
[The Hill]
[Image via Screengrab]
— —
>>Follow Andrew Desiderio (@forza_desiderio) on Twitter
[Note: Mediaite intern Andrew Desiderio is a student at The George Washington University.]
Have a tip we should know? tips@mediaite.com