Governor Rick Perry On Obama's Immigration Speech: 'The Guy's A Stand-Up Comic'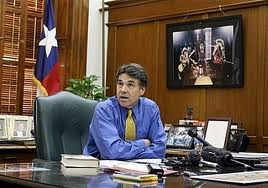 Texas governor Rick Perry wasn't the biggest fan of President Barack Obama's speech about immigration, given in El Paso, and didn't have a problem letting radio host Laura Ingraham know about it.
Basically, Perry told Ingraham, he gets the impression that Obama and his administration are not taking the issue of border security as seriously as they could:
This is a president who is more interested in trying out for Saturday Night Live it seems like… The guy's a stand-up comic, and that was what he was playing to. The fact of the matter is, Americans don't want a stand-up comic for the President of the United States. Anyone who knows what's happening on the border of Texas and Mexico or, for that matter, the southern border of the United States with Mexico realizes this is not comedy; there are people's lives in jeopardy every day.
And that sentiment just might have something to do with the Governor's strained relationship with Washington:
I'm the Governor of the state of Texas. I don't need to be briefed by people 1,500 miles away from Texas to tell me what's going on, on immigration and border security. I know, I've got people who are putting their lives on the line to keep our citizens safe.
"We need this administration to be engaged," Perry added, "to be actively trying to find solutions, not standing up and doing Saturday Night Live comedy in El Paso, Texas and making fun of people who are putting their lives on the line. I find that to be reprehensible." Given how terrible SNL has been for some time now, that's really got to sting.
Have a listen to the segment, courtesy of The Laura Ingraham Show:
Have a tip we should know? tips@mediaite.com