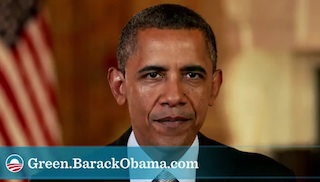 Despite recent big green endorsements by the Sierra Club, League of Conservation Voters, Clean Water Action and Environment America, some environmentalists are upset that President Obama edited out climate change from his annual Earth Day proclamation.
"The 2012 Presidential Proclamation for Earth Day does not have the word "climate" (and, therefore, zero mention of 'climate change' or 'global warming')," said A. Siegel, a blogger at Get Energy Smart! NOW. "While there is legitimate highlighting of the improved fuel economy standards, including that they will "cut greenhouse gas emissions" (actually, more accurately, lead to reduced emissions compared to what would be the case without them), there is nothing there about why 'cutting greenhouse gas emissions' would be something that anyone should be concerned about on Earth (or any other or, well, more accurately, every other) Day."
In 2011, President Obama issued a strong statement on addressing global warming:
Today, our world faces the major global environmental challenge of a changing climate. Our entire planet must address this problem because no nation, however large or small, wealthy or poor, can escape the impact of climate change. The United States can be a leader in reducing the dangerous pollution that causes global warming and can propel these advances by investing in the clean energy technologies, markets, and practices that will empower us to win the future.
"You'll be glad to know that in the last 12 months, that whole climate change problem went away," said ClimateProgress's Joe Romm .
"Obama isn't doing bloody much on climate change, and he's nonsensically censoring it from his major speeches even though it may be one of the definitive wedge issues of our time," Romm added. "But at least one day a year, when people are focused on the environment, surely we can all come together and at least mention, in passing, without too much fanfare, in a meaningless proclamation, the gravest preventable threat to the Earth's environment and humanity's well-being. Yes we can — not!"
Obama also left climate change out of a video reaching out to environmentalist campaign supporters to sign up at green.barackobama.com, though he did explicitly address "cutting down on mercury and other toxic air emissions from power plants," forest conservation and fuel efficiency standards. "Take a second right now to sign up for Environmentalists for Obama at green.barackobama.com and ask a friend to do the same," Obama said in a video message posted on Earth Day.
Watch Obama's Earth Day message below:

(h/t ClimateProgress via Get Clean Energy! NOW)
Have a tip we should know? tips@mediaite.com