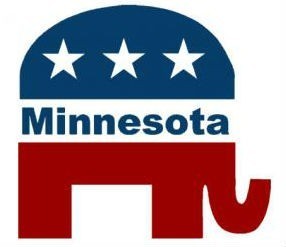 The American people are broke. However, our options of who to lead us are down to a guy who makes enough in book sales to afford all the "delicacies" in Indonesia and another guy who makes enough in a day to afford a race of androids in case he ever, y'know, gets lonely. How can such rich politicians ever hope to understand the plight of the working man? Well, over in Minnesota, the state GOP has come up with a brilliant plan to really get in touch with their constituents; they got in tons of debt, didn't pay their rent, and got evicted.
Yes, the Republican Party of Minnesota will no longer be kicking it in their sweet state capital headquarters. Apparently, that's what happens when you owe your landlord $111,192.14. That must have been really awkward when the guy came around knocking on the door and everyone had to stop talking about Mitt Romney, turn off the lights, and pretend to not be home.
But lets not make fun. Obviously, this was all on purpose so that they can get in the mind of regular Americans. And it wasn't easy getting that far in debt. It took hard work!
From Politics in Minnesota:
"The eviction action follows a series of revelations last winter regarding debts accrued by the party during the reign of former RPM Chairman Tony Sutton. In December, an internal review of finances revealed that the party owes $1.23 million to creditors, plus more than $700,000 in legal fees accrued during the 2010 gubernatorial recount, and is facing possible fines from the Federal Elections Commission for undisclosed debts. The party is also currently being investigated by the state campaign finance board.

The 10-year lease for the office space located at 525 Park St. in St. Paul — first signed in 2003 — puts the party on the hook for $6,881 a month for the 7,340 square foot space, according to records filed in Ramsey County District Court. But rent has inflated over the years, according to a PIM interview with former Chair Sutton, who resigned late last year amid rumors of ballooning debt.

In an internal party memo leaked to Politico in April, RPM Chairman Pat Shortridge, who was elected to succeed Sutton in December, revealed that the party hadn't paid its rent for at least the first two months of the year."
It will be really tough for all those Republican leaders to have to go back home and organise with their parents. However, I can only imagine that it will be a lesson well learned. Maybe soon they can work hard and get a real job.
(h/t Wonkette)
Have a tip we should know? tips@mediaite.com