Greenwald Announces NSA Book, Promises 'New Revelations' About 'Cooperation Of Private Industry'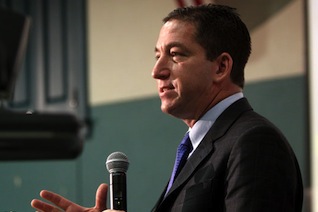 Glenn Greenwald, the lawyer-turned-activist-turned-journalist/blogger, will write a book about whistle blower Edward Snowden and the NSA surveillance information he disclosed.
Metropolitan Books announced Thursday morning that it would release Greenwald's account of the affair, which will contain "new revelations exposing the extraordinary cooperation of private industry." Set to be published in March 2014, it will be Greenwald's fifth book.
Guardian columnist and longtime critic of both the U.S. government's expansive surveillance policies and its equally-shadowy counterterrorist activities, Greenwald was contacted by Snowden after the latter had secured four hard drives' worth of classified information, and has had significant access to the material. Greenwald has since served as something of a mouthpiece for the marooned ex-defense contractor, defending Snowden from media criticism and threats of treason charges, even as the two lost contact for two weeks while Snowden was stuck in a legal netherworld in Moscow's Sheremetyevo airport. In the words of the Atlantic Wire, Greenwald knows more "than any private citizen" about the NSA programs.
ON A RELATED NOTE: Mediaite will be hosting a panel discussion next week, entitled "Privacy, Security, and the Digital Age," focusing on the policy issues that arise from questions of privacy, security, and our increasingly digital world. Sponsored by the Charles Koch Institute, the event will feature speakers from a variety of perspectives on these issues, including former White House officials, tech policy experts, and civil liberties advocates. View details here, and to RSVP, send an email to anyone and the NSA will let us know shortly.
Editor's note: This post has been edited since its original posting – Jon Nicosia, Mgr. Editor
[h/t Atlantic Wire]
—
>> Follow Evan McMurry (@evanmcmurry) on Twitter
Have a tip we should know? tips@mediaite.com