Greta Van Susteren Calls Out David Axelrod For Appearing On Maher's Show: 'Maher Is A Serial Pig'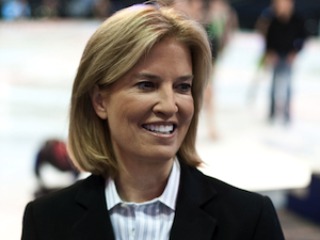 On The Record host Greta Van Susteren took to her blog, Greta Wire, to call out Obama campaign senior adviser David Axelrod for agreeing to appear on Bill Maher's show — pretty much right after he blasted Mitt Romney for not offering what he felt was a satisfactory response to Rush Limbaugh's recent "slut" commentary.
RELATED:David Axelrod Blasts Romney Over Limbaugh Response, Calls GOP Primary A 'Death March'
The media's treatment of women — be they public figures or otherwise — has been a pervading story arc for the past couple of weeks, with President Obama himself getting in on the discussion. So it makes sense that Van Susteren would call out the disconnect at play when one of the people closest to the President uses one hand to wag a finger at misogyny while using the other to pat the back of a serial misogynist.
Her post kicks off with a biting question: "Is everyone for sale?"
RELATED: Greta Van Susteren: Your Voice Is Needed Against Limbaugh's 'Slut' Remark (Updated)
At least Ed Schultz and Rush Limbaugh apologized (which I think appropriate) for their boorish behavior and their boorish behavior is nothing like Bill Maher! Maher is a serial pig. And Maher, to get cover for continuous vile behavior, gives a million dollars to the Obama super Pac so that the President looks the other way and the President does. Go figure! Is that the Obama price tag for decency? Give a million and you can be as nasty to women as you want? How does President Obama – who dragged his daughters into this, I did not – handle this with his daughters when Maher is the quintessential woman degrader? The C word to women – Maher's apparent favorite – is as vile as it gets. Do you wonder if the Obama campaign is laughing with Bill Maher? Or worse…laughing at Americans?
Oh, and just in case there was any question: "Being a comedian," Van Susteren adds, "is not license to be a bigot or degrade women. Seinfeld is more successful and never degrading."
h/t Greta Wire
Have a tip we should know? tips@mediaite.com