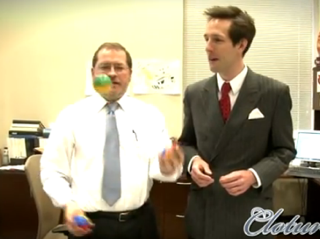 Have you ever wanted to see Grover Norquist juggle something other than the huge pile of signed anti-tax pledges (probably) on his desk? How about bowling pins? The head of Americans for Tax Reform sat down with Cloture Club's Andrew Heaton earlier this week to discuss, among other things, why taxes are awful and how to convince people not to raise them, but also had some tips for the youngster on how to keep hacky-sack balls in the air.
RELATED: The Daily Show's Samantha Bee Quizzes Grover Norquist On Disaster Tax Scenarios
The interview does touch on a number of serious subjects, like how Norquist got so many politicians on board for his pledge and how he plans to dismantle the tax code as we know it ("get the slower antelope first and we'll get them one at a time," Norquist deadpans). Asked whether his famous quote desiring a government "so small we can drown in it a bathtub" would have worked better with a hot tub instead, Norquist counters that the latter is just too big and would leave the government more powerful than he'd like. Also—don't rely on the barber shop to keep your beard trim, else people will think you are fluctuating unhealthily in weight, and don't use balls that bounce to learn to juggle.
Norquist hasn't been one to shy away from being light-hearted, despite his role as one of the more powerful people in Washington not actually holding an office. The Onion caught him in torrid affair a la Weiner with, yes, a bunch of different taxes earlier this year, and has been on the Daily Show several times. But never did he let on that he had this secret talent, except now as he passed it on. One notable tip? Try juggling fire before you move on to knives.



[h/t Famous DC]
Have a tip we should know? tips@mediaite.com