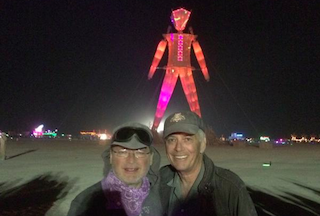 As he revealed he would be doing earlier in the summer, Grover Norquist, founder and president of Americans for Tax Reform, spent this past weekend at the Burning Man festival in the Black Rock Desert of Nevada. Now that he has returned in one piece, Norquist has written some thoughts about his experience for The Guardian's website.
After attempting to explain what exactly the festival is, using Woodstock, the Edinburgh Fringe Festival and Brigadoon as example, Norquist declares: "Burning Man is greater than I had ever imagined." He goes on to casually mention just some of the things he did while he was there and dispel the notion that conservatives like him are not welcome at the event:
Some self-professed "progressives" whined at the thought of my attending what they believed was a ghetto for liberal hippies. Yes, there was a gentleman who skateboarded without elbow or kneepads – or any knickers whatsover. Yes, I rode in cars dressed-up as cats, bees and spiders; I watched trucks carrying pirate ships and 30 dancers. I drank absinthe. But anyone complaining about a Washington wonk like me at Burning Man is not a Burner himself: The first principle of Burning Man is "radical inclusiveness", which pretty much rules out the nobody-here-but-us liberals "gated community" nonsense.
The Fusion network was one of the few media outlets to track Norquist down at the festival, asking him who has Burning Man "Dream Team" would be if he could coax some of his Republican friends from Washington to the event next year. His answer? Reps. Dana Rohrbacher, Kevin McCarthy and Darrell Issa, all from California, plus Sen. Rand Paul (R-KY).
Watch video below, via Fusion:
[Photo via Twitter]
— —
>> Follow Matt Wilstein (@TheMattWilstein) on Twitter
Have a tip we should know? tips@mediaite.com