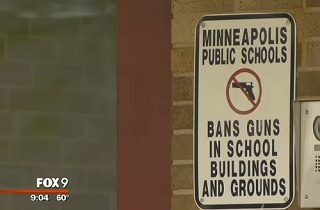 In yet another in a series of recent incidents involving children obtaining and misusing firearms, a Minneapolis third-grader somehow obtained a handgun, carried it to school in his backpack, and accidentally discharged the weapon as classes were letting out Tuesday. Thankfully, no one was injured in the incident, and police are still investigating how the child obtained the weapon. A Minneapolis police spokesman told Mediaite, this morning, that the investigation is ongoing, and there are no new details to report.
According to Rachel Hicks, director of media relations and public affairs, the shooting occurred at about 3 p.m. at Bethune Community School, located at 919 Emerson Avenue North.

Hicks said a gun in a grade school student's backpack discharged, but she said the incident occurred outside of the school building and there were not many students around at the time.

Although no injuries were reported, Hicks said some students may have seen smoke and heard the shot. No details about the weapon were provided.

Hicks told FOX 9 News staff members followed school protocol and called Minneapolis police.

Sgt. Stephen McCarty confirmed that a third-grade student had a loaded handgun in a backpack and that the gun accidentally went off while the child was outside.

The student was taken to St. Joseph's Hospital Home for Children on a health and welfare hold to figure how and where the child got the firearm.
Officials at the school and in the police department seem, understandably, to be focused on downplaying the potential danger this incident posed to children at the school. A police spokesman refused to confirm the rather obvious possibility that the child in question, whose firearm went off at the end of the school day, carried that loaded weapon around with him all day on Tuesday.
The media's focus on gun violence has waned in recent weeks, even as a mounting toll of incidents involving children shooting, and often killing, with unsecured firearms continues to rise. The National Rifle Association, which the media treats as a legitimate party to the debate over gun violence, has consistently warned parents not to lock up their guns, a fact which has also, thus far, escaped the media's notice.
Here's Fox 9's report on the incident in Minneapolis:
Have a tip we should know? tips@mediaite.com