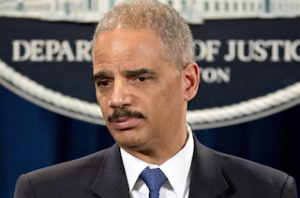 Attorney General Eric Holder's planned meeting with mainstream media outlets' Washington bureau chiefs have been stalled after the Justice Department indicated that the conversations would be off-the-record. The New York Times' executive editor Jill Abramson was the first to decline the invitation, and shortly after the AP, CNN, CBS News and The Huffington Post followed suit.
With much of the debate over the DOJ's subpoena guidelines revolving around reporter James Rosen, Fox News clearly has a vested interest in the outcome of the meeting. While there appears to be a mini–campaign among Fox anchors to send Rosen himself to the meeting to confront Holder directly, Bret Baier confirmed that Fox will not send anyone to the meeting if it is off the record.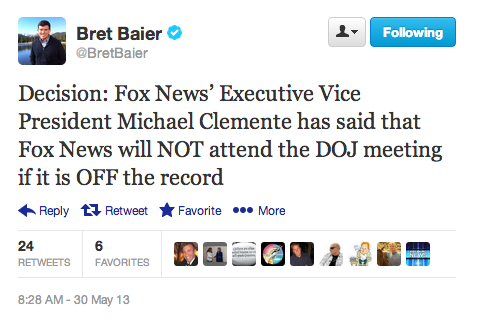 So which news outlets will sit down with Holder? POLITICO, The Washington Post and ABC News are the only outlets who have officially agreed to attend the session, which will be used to discuss the DOJ's guidelines for subpoenaing reporters.
According to The Huffington Post's Michael Calderone, who has been closely tracking developments on this story, the only major news organization that remains undecided is NBC News.
As POLITICO's Mackenzie Weinger pointed out earlier, NBC News' Luke Russert confirmed that both NBC News and MSNBC were invited to the meeting, but had not yet decided on whether to attend or not.
Will pressure from the majority of major news outlets force Holder to hold the meeting on the record? Or will he move forward as is, delivering big scoops to three news organizations that won't be able to publish a word?
UPDATE (2:50pm ET): Calderone has also confirmed that the Wall Street Journal's Washington bureau chief Gerald F. Seib will attend the meeting.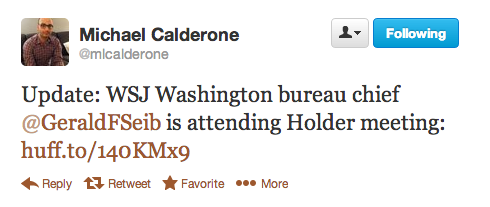 Reuters will not attend the meeting.
UPDATE (5:35pm ET): Shortly before the first meeting with Holder was scheduled to begin, NBC News confirmed that will not be participating: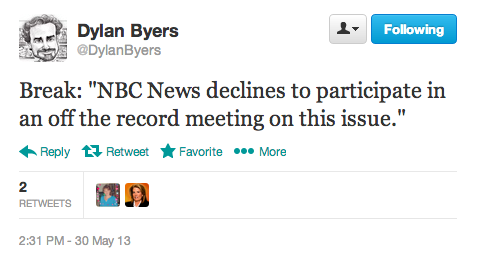 —
>> Follow Matt Wilstein (@TheMattWilstein) on Twitter
Have a tip we should know? tips@mediaite.com