Senator Marco Rubio (R-FL), taking a break from trashing an immigration plan (that's remarkably similar to his own) to go on a check-the-box tour of Israel, has apparently discovered that his latest claim to fame has preceded  him. Rubio, whose already-tepid rebuttal to President Obama's State of the Union address was upstaged by a tiny bottle of Poland Spring and a Terminator-esque maintenance of eye contact with the camera, was greeted by Israeli Prime Minister Benjamin Netanyahu with a visual reminder of the infamous hydration vacation. Netanyahu and a broadly-smiling Rubio shared a bottled water toast, which rocketed around the world via Twitter: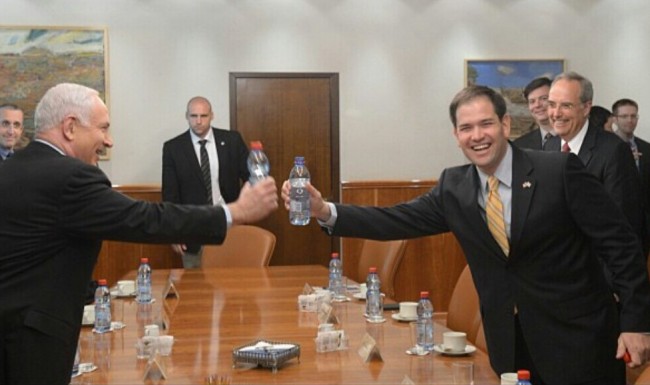 As water-bottle gags go, they could have done a lot worse.
Senator Rubio's embrace of the water bottle moment has been thorough and, in a sharp departure from everything else his party has done since its drubbing in the 2012 election, very smart. While some observers mocked the potential of the mishap to damage Sen. Rubio, just ask former Vermont Governor Howard Dean how a truly insignificant bit of optics can blow up in your face. If he had gotten out in front of the "Dean Scream" this quickly, we might now be basking in the afterglow of President Dean's second term.
After their toast, Sen. Rubio spoke with Prime Minister Netanyahu about the President's upcoming visit:
Sen. Marco Rubio told Israel's prime minster Wednesday he was glad President Barack Obama would be visiting the Jewish state this spring.

"You live in a challenging neighborhood, but the Israeli-American relationship is one of the most important ones we have, and certainly our commitment to that partnership is bipartisan and it should remain that way," the Florida Republican told Benjamin Netanyahu during a meeting in Jerusalem. "And that's why I'm pleased the president is coming here in March."

Netanyahu told Rubio that he appreciated "the tremendous support of the American people, bipartisan support for our security and our quest for peace."

"It's a daunting task, both security and the quest for peace, but we know we have your support and we appreciate it. I look forward to talking with you about our challenges," Netanyahu continued.
Rubio's visit, a possible credential-builder for a 2016 presidential run, comes the month before President Obama's second visit to Israel, and first as President. When he visits Israel in March, President Obama will become only the 5th U.S. President to do so.
(h/t Buzzfeed)
Have a tip we should know? tips@mediaite.com