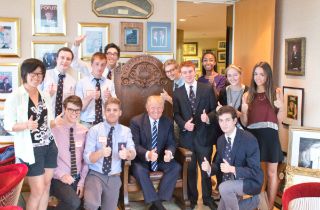 In late July, Donald Trump met with representatives of Harvard's student newspaper, The Harvard Crimson, for a photo op and a campaign endorsement at Trump Tower. There were two slight problems though: the students he met were not from The Crimson, and the endorsement was actually part of an elaborate prank between student publications.
The students who met The Donald were actually from Harvard Lampoon, a satirical magazine with a historical rivalry with The Crimson, who decided to rope Trump in in order to prank them both.
As part of the student rivalry, the two organizations have a long history of attempting to steal each other's icon. The Crimson's piece is the wooden president's chair, and for The Lampoon, it's a metal Ibis bird that stands atop their building.
The Crimson editors arrived at their office one day in late June, and found that their desk had been stolen, having been broken out of the chains that kept it from their rivals. During that time, the chair was being moved by the "Poonsters" to New York, where they asked Trump to sit while he was receiving them.
Several weeks later, a fake website bearing The Crimson masthead went live, showing Trump at the reception and a rave review to match:
Donald J. Trump is known as a celebrity above all, and although some voters see his celebrity as an indication of style over substance, we would argue that this style is the very substance that elevates his candidacy above the rest of the GOP field. Trump's unique brand of media ubiquity—whether on social media or primetime TV— lends him a highly valuable ability to both understand what Americans want and enact change to satisfy those needs.
When Trump reached out to The Crimson's president Steven Lee, both parties confirmed that they never had contact with each other and the prank was discovered. Not surprisingly, Trump was unamused when he realized that his endorsement was merely a joke.
"The students who perpetrated this are fraudsters and liars, but frankly it was a waste of only a few minutes," said spokeswoman Hope Hicks. "Mr. Trump attended the great Wharton School of Finance, a school that has more important things to do."
[h/t The Hill]
[Image via Harvard Lampoon]
— —
>> Follow Ken Meyer (@KenMeyer91) on Twitter
Have a tip we should know? [email protected]