Harvard President Condemns Satanic 'Black Mass' Ritual, Allows It to Proceed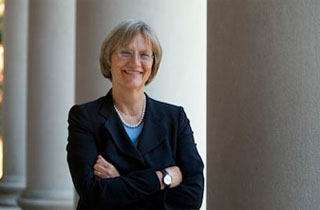 In a statement released today, Harvard University president Drew Faust said that while she would allow a controversial Satanic "black mass" to be performed tonight by a group of Harvard students, she herself found the concept "abhorrent," calling it a "fundamental affront to the values of inclusion, belonging and mutual respect that must define our community."
Faust said that she would uphold the University's commitment to freedom of expression, noting that "vigorous and open discussion and debate are essential to the pursuit of knowledge, and we must uphold these values even in the face of controversy." However, she blasted the students of the Harvard Extension School for participating in an act deeply offensive to Catholics and Christians:
But even as we permit expression of the widest range of ideas, we must also take responsibility for debating and challenging expression with which we profoundly disagree. The 'black mass' had its historical origins as a means of denigrating the Catholic Church; it mocks a deeply sacred event in Catholicism, and is highly offensive to many in the Church and beyond. The decision by a student club to sponsor an enactment of this ritual is abhorrent…It is deeply regrettable that the organizers of this event, well aware of the offense they are causing so many others, have chosen to proceed with a form of expression that is so flagrantly disrespectful and inflammatory.
The "black mass," a ritual parodying the fundamental tenets of Christianity and involving a whole lotta sacrilege to the Eucharist and Jesus, was met with howls of protest from the Harvard student body and Boston's Catholic community. While Faust left the decision to continue with the event in the hands of the students responsible, she added that she planned on attending a Eucharist holy hour and Benediction organized by the Archdiocese of Boston in response to the black mass.
[Harvard University]
[Image via Harvard.edu]
— —
>> Follow Tina Nguyen (@Tina_Nguyen) on Twitter
Have a tip we should know? tips@mediaite.com