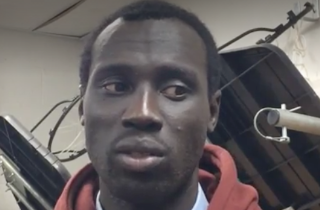 Until I started this job, I'd never even considered that there might be adults out there willing to pretend to be in high school, but now I've had to write about that exact thing not once, but twice. Both stories have striking similarities. They are about immigrant adults who enrolled in high school to avoid going back to their countries of origin.
This case in particular is about Jonathon Nicola, who is 30 years old, pretended to be 17, and was the star of his high school's basketball team. Through a program that places foreign students in homes, he was even living with his coach, who told the hometown paper a few months ago that he was so good, he had a shot at making it to the NBA.
From the Windsor Star:
Nicola told the Star in the January feature story that he arrived in Windsor on Nov. 22, 2015, just three days before his 17th birthday. He said he left South Sudan, his disease-ridden, wartorn home, for a better life in Windsor.

"A few of my friends know of my background, how we live over there," he said in January. "I don't know how many of them have a clue of how it is in Africa."
He described terrorism and war as elements that made it "real double hard" to obtain a student visa.
He was arrested by the Canadian Border Services Agency for allegedly contravening the Immigration Refugee Protection Act. He is still being detained under the authority of that act and there have been no further revelations about what, exactly, he is accused of doing.
[image via screengrab]
For more from Lindsey, follow her on Twitter.
Have a tip we should know? tips@mediaite.com