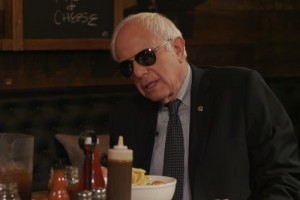 Democratic presidential candidate Bernie Sanders sponsored a Senate bill Friday that would end federal prohibition of marijuana and allow states to decide whether to legalize recreational use of the drug. The Bern is feeling the burn.
Sanders' move puts him in stark opposition with rival Hillary Clinton, who declined to support federal legalization when asked about the issue during the last Democratic debate.
"I think that we have the opportunity through the states that are pursuing recreational marijuana to find out a lot more than we know today," Clinton said, adding that she does "support the use of medical marijuana."
"We need to do a lot more research so that we know exactly how we're going to help people for whom medical marijuana provides relief," Clinton added.
Sanders told CNN Friday that the federal government "should remove marijuana from the Controlled Substance Act." Sanders also said he would leave legalization up to the people, noting "we live in a federal system of government where issues like tobacco and alcohol are significantly regulated by the states."
"If a state wants to go forward, it should be able to do so without impediments from the federal government, which now prevent stores that sell marijuana from using banks, because that's in violation of federal law," Sanders added.
The third Democratic candidate, Martin O'Malley, decriminalized marijuana in his home-state of Maryland, but declined to push for outright legalization. Though O'Malley said he would reclassify pot from a Schedule I to a Schedule II drug, he's "not there yet" when it comes to recreational use. "I think we still have to watch Colorado and Washington state," O'Malley said.
Similar bills in the House of Representative failed to gain traction in the past; Sanders' bill is the first of its kind to be introduced in the Senate. Legalization advocate Mason Tvert said Sanders "is simply proposing that we treat marijuana similarly to how we treat alcohol at the federal level."
"It is a commonsense proposal that is long overdue in the Senate," Tvert said.
[Image via screengrab]
—
>> Follow Elizabeth Preza on Twitter (@lizacisms)
Have a tip we should know? tips@mediaite.com