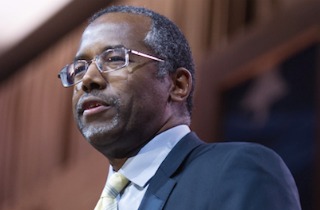 Ben Carson's campaign is coming out hard against a Politico report about a supposed admission by Carson over West Point.
Carson said in his book that he was offered a full scholarship to West Point, but the report found he was not. However, in a lengthy statement to The Daily Caller, Carson spokesman Doug Watts said he was just told his performance was good enough to maybe get into West Point with a scholarship, but there was no formal offer.
He calls the report an "outright lie," saying that Carson never claimed "he was admitted or even applied" to West Point. He also disputes that despite Politico's headline, the campaign "admitted" to anything.
You can read the full statement here:
Dr Carson was the top ROTC student in the City of Detroit. In that role he was invited to meet General Westmoreland. He believes it was at a banquet. He can't remember with specificity their brief conversation but it centered around Dr. Carson's performance as ROTC City Executive Officer.

He was introduced to folks from West Point by his ROTC Supervisors. They told him they could help him get an appointment based on his grades and performance in ROTC. He considered it but in the end did not seek admission. There are "Service Connected" nominations for stellar High School ROTC appointments. Again he was the top ROTC student in Detroit. I would argue strongly that an Appointment is indeed an amazing full scholarship. Having ran several Congressional Offices I am very familiar with the Nomination process.

Again though his Senior Commander was in touch with West Point and told Dr. Carson he could get in, Dr Carson did not seek admission.

The Politico story is an outright Lie. Dr. Carson as the leading ROTC student in Detroit was told by his Commanders that he could get an Appointment to the Academy. He never said he was admitted or even applied.

The campaign never "admitted to anything"

This is what we have come to expect from Politico.
[image via Shutterstock]
— —
Follow Josh Feldman on Twitter: @feldmaniac
Have a tip we should know? tips@mediaite.com
Josh Feldman - Senior Editor