Hilarious! Mitt Romney Tells 'Humorous' Story About That Time His Dad Shut Down A Factory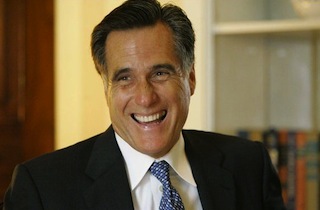 In recent weeks and months, there has been much made about the frequent "rich guy gaffes" that Mitt Romney has been making. You know, talking about being friends with NASCAR owners, betting $10,000, etc. And, to a certain extent, the jokes and insults aren't really fair. Sure, Mitt Romney is rich, but all the candidates are rich (and, unfortunately, always will be). However, these gaffes seem to show the candidate can't relate to the people he wants to lead and, more importantly, he just keeps making them! Today he made yet another one. Perhaps Chris Matthews was right; this guy just isn't "trainable."
So, what did he do this time? Well, Romney called in to a "telephone town hall" in Wisconsin where he talked up his support of Gov. Scott Walker and Rep. Paul Ryan. All good, right? You'd think, but, at towards the beginning, Romney decided to tell a funny story about his history with the state of Wisconsin and…just see for yourself.
From The Journal Sentinel:
"'One of most humorous I think relates to my father. You may remember my father, George Romney, was president of an automobile company called American Motors … They had a factory in Michigan, and they had a factory in Kenosha, Wisconsin, and another one in Milwaukee, Wisconsin," said Romney. "And as the president of the company he decided to close the factory in Michigan and move all the production to Wisconsin. Now later he decided to run for governor of Michigan and so you can imagine that having closed the factory and moved all the production to Wisconsin was a very sensitive issue to him, for his campaign.'

Romney said he recalled a parade in which the school band marching with his father's campaign only knew the Wisconsin fight song, not the Michigan song.

'So every time they would start playing 'On, Wisconsin, On, Wisconsin,' my dad's political people would jump up and down and try to get them to stop, because they didn't want people in Michigan to be reminded that my dad had moved production to Wisconsin,' said Romney, laughing."
Dude! What are you thinking?!
Look, I get it. Years ago in high school, I made a harmless joke about a classmate's parents only to be told they'd both been killed in an accident. Sometimes you just don't realize that the things you find funny actually have extremely bad connections for other people. But here's the difference. For me, that incident was so bad that I'm still embarrassed about it. Meanwhile, Mitt Romney, a guy who keeps getting knocked for being an aloof rich guy, can't seem to get it through his head that he shouldn't tell a story that uses the words "humorous" and "close the factory" at the same time.
People keep making jokes that these gaffes make Romney seem inhuman but I think it goes further than that. If I was suddenly abducted by aliens and taken to their home planet where I learned that telling stories about, I don't know, soccer pissed all the aliens off, I'D STOP TALKING ABOUT SOCCER.
(h/t The Journal Sentinal via Ben Smith)
Have a tip we should know? tips@mediaite.com