Hillary Clinton Snaps at NPR Host for Questions About Gay Marriage Evolution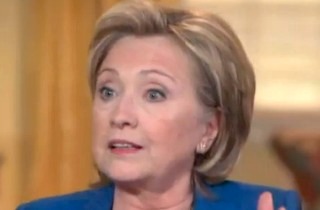 Hillary Clinton's had a few controversial moments already on her book tour, but this one might take the cake.
During a contentious interview on NPR's Fresh Air, Clinton scolded host Terry Gross for persistently asking questions about the former Secretary of State's "evolution" on the issue of gay marriage. In Clinton's mind, the host had been attempting to twist her words to unfairly paint a picture about her views on the issue.

Clinton publicly endorsed same-sex marriage only last year, leading many to surmise that she either withheld her true feelings on the issue all along, or had simply come around to the voting public's increasing support for the issue. On Thursday morning, Gross attempted to understand Clinton's change of heart, provoking a testy response.
After repeated questioning and several defensive responses, Gross told her interviewee: "I'm just trying to clarify so I can understand."
"No, I don't think you are trying to clarify," Clinton fired back. "I think you're trying to say I used to be opposed and now I'm in favor and I did it for political reasons, and that's just flat wrong."
She continued: "So let me just state what I feel like you are implying and repudiate it: I have a strong record, I have a great commitment to this issue, and I am proud of what I've done and the progress we're making."
The clip was flagged by America Rising, a Republican group.
Listen below, via WFPL News:
— —
>> Follow Andrew Kirell (@AndrewKirell) on Twitter
Have a tip we should know? tips@mediaite.com