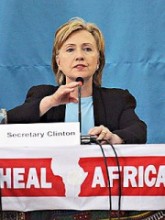 President Barack Obama may prefer the op-ed pages of the New York Times to impart his views to the world, but Secretary of State Hillary Clinton has decided to go directly to the people, through People.com. The website has posted an exclusive op-ed from Clinton about her recent 11 day trip through Africa, much of which was overshadowed by her 'I'm the boss' response to a Congolese student.
Strange choice of venue? Brilliant might be the better word. People.com is one of the most heavily-trafficked sites on the Web, and arguably reaches an audience that doesn't necessary follow the NYT op-ed pages with as close an eye as some media types might. It's also a site that, according to its Quantcast description, "appeals to a more affluent, slightly female slanted, skewing older audience." This could also be a fairly accurate description of Hillary Clinton's base. Suffice it to say, Mrs. Clinton knows where her bread is buttered. It's a move the President might consider making as he continues to struggle to reclaim the health care debate. In the meantime here's a look at some of what Mrs. Clinton saw on her trip:
Women and girls in particular have been victimized on an unimaginable scale, as sexual and gender-based violence has become a tactic of war and has reached epidemic proportions. Some 1,100 rapes are reported each month, with an average of 36 women and girls raped every day.

I visited a hospital run by the organization Heal Africa and met a woman who told me that she was eight months' pregnant when she was attacked. She was at home when a group of men broke in. They took her husband and two of their children and shot them in the front yard, before returning into the house to shoot her other two children. Then they beat and gang-raped her and left her for dead. But she wasn't dead. She fought for life and her neighbors managed to get her to the hospital – 85 kilometers away.

I came to Goma to send a clear message: The United States condemns these attacks and all those who commit them and abet them. They are crimes against humanity.
Related: Hillary Clinton Pledges to 'Banish Sexual Violence' (People.com)
Have a tip we should know? tips@mediaite.com