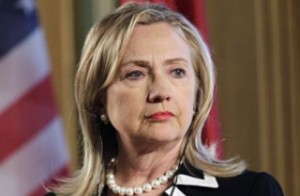 On Wednesday, in her final days as Secretary of State, Hillary Clinton is set to testify on the attack on the U.S. consulate in the Benghazi, Libya. About four months after the attack that killed U.S. Ambassador Chris Stevens and three other Americans, she will be appearing before both the House and Senate foreign relations committees.
RELATED: Review Of Benghazi Attack Blames State Dept's 'Systemic Failures,' 'Grossly Inadequate Security'
Benghazi has been a contentious and controversial issue from the beginning, with many Republicans questioning the administration's handling of consulate security — as well as the response in the aftermath, which included initially placing blame on an anti-Muslim video.
Sen. Marco Rubio (R-FL) said he hoped the testimony would allow a window into "the decision-making process in terms of the amount of security that was at the consulate. She has a unique insight that no one else in the State Department can offer, so we look forward to hearing about that."
Per CBS News:
"[B]oth on the Senate side, and on the House side, members of Congress will have a chance to hear what the secretary has to say, but also to ask her any remaining questions that they have on this matter," Nuland told reporters Tuesday. "She will focus, not only on [an outside Accountability Review Board (ARB) report on what went wrong in Benghazi], but on all the work that the department has done already to implement the ARB report, and give a status on that, and an update on the work that — that remains."
Last month, an independent review blamed "systemic failures and leadership and management deficiencies at senior levels," adding that security was "inadequate for Benghazi and grossly inadequate to deal with the attack that took place."
(h/t CBS News)
Have a tip we should know? tips@mediaite.com