Hillary's Pneumonia Diagnosis Prompts Concern, Sympathy and Hot Takes on Twitter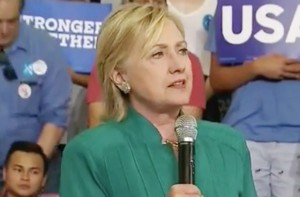 The news about Hillary Clinton's medical diagnosis has created a major conversation on Twitter, prompting comments of concern, well-wishes, and, in the case of some of her critics, delight.
Clinton left today's 9/11 memorial ceremony ahead of schedule today in New York, leading to renewed speculations about her health. While the campaign initially chalked it up to being overheated, Clinton's doctor has confirmed that she has been working under a case of pneumonia since Friday.
The development quickly became the greatest source of conversation among media figures right now. Some people appeared sympathetic as they defended Clinton:
If Clinton's team proactively announced she'd had pneumonia, it would have probably kicked off a bunch of conspiracy theories on the right.

— Ethan Klapper (@ethanklapper) September 11, 2016
Pneumonia is no joke. And it can be debilitating. Home stretch nightmare for any campaign.

— Noah Rothman (@NoahCRothman) September 11, 2016
Given how punishing the schedule is, and how many people they touch, I'm surprised presidential candidates don't get sick more often.

— Ezra Klein (@ezraklein) September 11, 2016
Every candidate I have ever worked for has gotten sick on the trail and worked through it because you can't take days off in a close race

— Dan Pfeiffer (@danpfeiffer) September 11, 2016
It shows her doing her best to grit her teeth and work hard even with pneumonia. And it's humanizing, relatable.

— Josh Barro (@jbarro) September 11, 2016
A smart candidate would say "I wish my opponent a speedy recovery." A sociopathic one would say "I told you so." Let's see which emerges.

— Dave Wasserman (@Redistrict) September 11, 2016
Others were concerned about how this would affect the 2016 race:
Well, pneumonia. That's serious. Campaign kept it hidden Fri/Sat/Sun. No wonder the crazies get traction. Dems are pros at losing elections.

— Michael Moore (@MMFlint) September 11, 2016
Clarification from dem operatives @HillaryClinton pneumonia: Expect emergency DNC meeting to CONSIDER replacement. #HillarysHealth

— David Shuster (@DavidShuster) September 11, 2016
Hmm, I wonder why Hillary went to the event today when her doctor advised rest. What could she have possibly been worried about?

— Jon Favreau (@jonfavs) September 11, 2016
There will be a huge groundswell of media demands for extensive Clinton medical records this week. Question is: will we demand Trump's too?

— Joy Reid (@JoyAnnReid) September 11, 2016
Seriously? Do minor head injuries magically relapse in the form of pneumonia years later, Dr. Grenell, MD? https://t.co/FV0b9DlmEX

— Bob Cesca (@bobcesca_go) September 11, 2016
Some used the revelation to discuss whether the diagnosis is the latest instance of Clinton not being transparent with the media:
Lesson for the next 4 years: whatever the question is, never believe the first answer from the Hillary Clinton White House.

— David Frum (@davidfrum) September 11, 2016
The question is why the press and public did not get notice of pneumonia diagnosis Friday https://t.co/3TkoDQ9Mw1

— Rick Hasen (@rickhasen) September 11, 2016
Campaign should have been more transparent earlier today. But this is fair perspective. Every day counts. https://t.co/jOMotouAFP

— Mark Murray (@mmurraypolitics) September 11, 2016
Today has been one of the worst days for reporting on this campaign I have ever seen. It is honestly embarrassing.

— Jesse Berney (@jesseberney) September 11, 2016
And then, there were those who seemed to use the news to take a shot at Clinton:
.@DRUDGE having a field day with this… pic.twitter.com/Ckt0yiqMbi

— Jeremy Diamond (@JDiamond1) September 11, 2016
Humpty Dumpty had a great fall & all the King's horses & all the king's men said Humpty was doing just fine https://t.co/TSPbdAlPEy

— Dinesh D'Souza (@DineshDSouza) September 11, 2016
"Allergies" https://t.co/xGa4iRmZME

— Katie Pavlich (@KatiePavlich) September 11, 2016
"Go ahead, little girl, hug the nice old lady with pneumonia." – No one sane

— Ben Shapiro (@benshapiro) September 11, 2016
When was Hillary going to let the pubic know about her diagnosis?

— Rich Lowry (@RichLowry) September 11, 2016
[Image via screengrab]
— —
>> Follow Ken Meyer (@KenMeyer91) on Twitter
Have a tip we should know? tips@mediaite.com