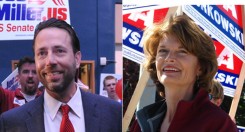 Alaska's polls were the last to close in the nation last night (or today, depending where you are), but it may be a while before we know who snagged the hotly-contested Senate seat there. Reports this morning indicate that "Write-in Votes" was leading the results with nearly 40 percent of the vote. From the NYT:
The margin inched up throughout the night. With about 70 percent of precincts reporting, Ms. Murkowski, a Republican who was defeated in her party's primary but returned to the race as a well-financed write-in candidate, led Joe Miller, the Republican nominee. Ms. Murkowski had roughly 39 percent of the vote, to Mr. Miller's 35 percent. Scott McAdams, a Democrat, had 24 percent of the vote.
Here's where it may get tricky. The presumption is that "write-in votes" mean Lisa Murkowski. However, the write-in's have yet to be counted, and state election official will only begin the count once absentee and questioned ballots are in. Meanwhile, there is no guarantee that it is Murkowski's name on all those write-ins. From the Independent:
After the courts in Alaska ruled last week that election workers could hand voters a list showing the names of write-in candidates as they enter the voting booths, Miller supporters rushed to register themselves as last-minute runners just to dilute whatever advantage the lists might give to Ms Murkowski. Suddenly there were well over 150 write-in candidates in the race.
While we await the final count here's the short version: Joe Miller was probably not the change Alaska was looking for, and it's going to be a long few weeks for state election officials.
Have a tip we should know? tips@mediaite.com