Too Close To Call: The Uncalled Races The Media Still Gets To Speculate About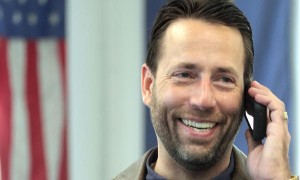 Election Night 2010 has come to an end – but Election Next Day 2010 is in full gear.
As of 10amET on Wednesday, there are still three Senate races and 12 House races yet to be called. Here's a look at what the media still gets to speculate about.
All the races will help show just how many seats the Republicans ultimately pick up, which is why networks still report the House pick-up as "likely 60+ seats." But first, let's talk Senate. Obviously the big race is Alaska, where "write-in candidate" is leading. If the "write-in candidate" wins, it doesn't mean Lisa Murkowski wins – it just means Alaska will then start counting to see who each voter actually wrote in. Joe Miller is trailing, but not so far off that a few thousand non-Murkowski votes could make this a race that goes well into next week and beyond.
In Washington, incumbent Democrat Patty Murray is tied with Dino Rossi, with 65% of the vote counted, and in Colorado, incumbent Democrat Michael Bennet is tied with Ken Buck, with 88% of the vote in. Look for these Senate contests to be called at some point today – but a potential recount could be called as well, delaying the process.
> Update at 10:40amET: The Denver Post appears to be the first news source to call the race for Bennet.
MSNBC's First Read reports on the dozen uncalled House races, and what they mean for the GOP:
Republicans gained approximately 60 House seats. There are still 12 races we're watching — all held by Democrats — that are too close to call. Republicans lead in three of those, so GOP gains will likely inch slightly higher. What's left: AZ-7, AZ-8, CA-11, CA-20, GA-2, IL-8, KY-6, MI-9, NY25, TX-27, VA-11, and WA-2.
According to FiveThirtyEight, the biggest surprises are CA-20, IL-8, MI-9, NY-25, TX-27 and WA-2, which were predicted to lean Democrat (the others were toss-ups). Out of those, NY-25 was given a 93% chance of a Democratic win by Dan Maffei, who massively outspent his GOP challenger Ann Marie Buerkle, and has held the seat for four years.
Obviously the Alaska Senate race will be the media's focus, and the other Senate races coming in right behind. But with 15 seats still up for grabs, the narrative of how big a victory this will end up being for the GOP is still yet to be written.
> Update: There are also seven gubernatorial seats that are too close to call, including Florida, Illinois and Connecticut.
—–
» Follow Steve Krakauer on Twitter
Have a tip we should know? tips@mediaite.com