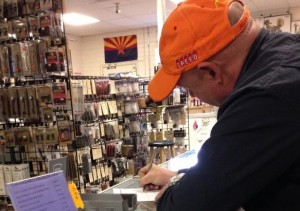 As the push for sensible gun regulation has intensified in the wake of the Newtown mass shooting, many conservatives have had a hard time agreeing to any new restrictions on firearms, even the immensely popular universal background checks. Ordinarily, it would be unthinkable for conservatives to support rigorous tracking of firearm sales, including make, model, date and time of purchase, and even a photograph of the purchase. However, there is apparently one way to get conservatives on board for this sort of Big Brothery. All you've got to do is have your wife get shot in the head.
Retired astronaut Mark Kelly, husband of former Congresswoman Gabby Giffords, purchased a .45 semiautomatic pistol and a used AR-15 at a gun store in Tucson last week. According to Kelly, he bought the AR-15 to demonstrate that background checks are not onerous, even on purchases of assault weapons, and said he intends to turn the weapon in to police. From Kelly's Facebook page:
Looks like the judiciary committee will vote on background checks next week. I just had a background check a few days ago when I went to my local gun store to buy a 45. As I was leaving, I noticed a used AR-15. Bought that too. Even to buy an assault weapon, the background check only takes a matter of minutes. I don't have possession yet but I'll be turning it over to the Tucson PD when I do. Scary to think of people buying guns like these without a background check at a gun show or the Internet. We really need to close the gun show and private seller loop hole.
Even though Mark Kelly didn't say it, I know that he bought those weapons at 3:30 pm on the afternoon of March 5 at Diamondback Police Supply, 170 S. Kolb Street, Tucson, AZ. I know that because one of Kelly's fellow gun owners apparently informed on him to Breitbart News, who were, of course, outraged at this intrusion into a law-abiding gun owner's privacy:
Breitbart News received a tip on this when Neil McCabe, editor of Guns & Patriots newsletter, contacted us on March 7 and said:

Mark E. Kelly, made purchases which included an AR-15–sometimes described as an "assault rifle"–at 3:30 pm on the afternoon of March 5 at Diamondback Police Supply, 170 S. Kolb Street, Tucson, AZ.

According to McCabe, witnesses to the purchases claimed Kelly purchased "high capacity" magazines as well.

On March 6, McCabe contacted Kelly's gun control group–"Americans for Responsible Solutions"–and on March 8 they replied that his message had been passed on to colleagues who handle press requests. Breitbart News then began investigating the details surrounding the purchase, including visiting the gun store.

Suddenly, Kelly announced on his Facebook page that he was not going to keep the AR-15, which he has yet to pick up from the store.
Yes, and he also "suddenly" went back in time to take a picture of the purchase, to make it seem like he intended to post it on Facebook all along.
It was my understanding that conservative gun nuts oppose keeping track of who owns guns, and which guns they own, and anything at all about guns. The difference is that they don't want the government keeping track of that stuff, because they might do something crazy, like solve a murder. Disseminating that information to million of paranoid gun nuts, however, is a different matter completely.
At least Michelle Malkin scribe Doug Powers defended Mark Kelly's right to purchase guns unmolested. Or not:
Days after the purchase and after the news became public, Kelly said he bought the AR-15 to prove that it's too easy and the background check process is insufficient. However, Kelly's background was checked (which is also presumably why he couldn't take the gun home that day), so it's difficult to understand how his point was made. All Kelly did was prove that an American no criminal record can pass a background check. It seems as if a person intent on exposing any deficiencies in the existing background check system would have found somebody with a record and had that person go through the purchase process to see what happened.
Except Kelly's point, which he wrote with words, in English, was that background checks are efficient and effective, and should be used on all purchases. Powers, like Breitbart News, smelled himself a "gotcha!"
Kelly is now saying that when he takes possession of the AR-15 he'll be turning it over to the Tucson police, which was his plan ever since… well, at least ever since he found out he was spotted buying an AR-15.
"Spotted buying an AR-15," or "photographed himself buying an AR-15," tomato, tomahto.
It takes a certain kind of soullessness to rush, sticky-fingered, to a keyboard to try and score points against a guy who, disagree with him or not, is married to the heroic survivor of a terrible tragedy. That they failed so miserably to score those points only shows they're as brainless as they are heartless.
Have a tip we should know? tips@mediaite.com