How to Watch Indians-Blue Jays American League Championship Series Baseball Game 4 Live Stream Online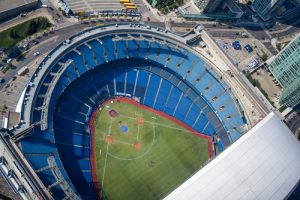 It just might be Cleveland's year.
The Indians were forced to pull their starter, Trevor Bauer, after just 21 pitches in Game 3 of the American League Championship Series against the Toronto Blue Jays on Monday. That left it to the Cleveland bullpen to get the final 25 outs.
Seven Cleveland pitchers combined to go the final 8.1 innings, and they yielded only two runs in the process en route to a 4-2 victory. The Indians are now up 3-0 in the best of seven series.
If there's any hope for Toronto, it's that this 3-0 lead might be just a bit more tenuous than normal for Cleveland, given a number of factors. First, they send 2016 American League ERA leader Aaron Sanchez to the hill on Tuesday. Second, the Indians are countering by pitching their ace, Corey Kluber, on short rest. With and Bauer's status uncertain for the rest of the series, the starters for Games 5 and 6 are a major question mark, before Kluber would, presumably, again take the ball on short rest in Game 7.
And of course, the Cleveland bullpen could potentially be overtaxed. Indians manager Terry Francona took pains to divide the workload as best he could, but if the Blue Jays get into the Cleveland bullpen early in Game 4, they might begin to tire.
All that to say, it ain't over 'til it's over.
First pitch today is 4:08 p.m. ET. Ernie Johnson, Ron Darling, and Cal Ripken Jr. have the call. The game will air live on TBS. The network will stream the game free for cable subscribers on the Watch TBS app, which can be downloaded via the iTunes store, the Google Play store, and the Windows store.
[image via Maurezio De Mattei – ShutterStock]
Have a tip we should know? tips@mediaite.com