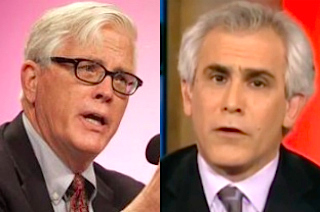 Radio host Hugh Hewitt spent a full 47 minutes on Monday going at it with Mother Jones' Washington Bureau Chief David Corn over his reporting that has called into question statements made by Fox News' Bill O'Reilly about his time covering the Falkland Islands war for CBS News from Buenos Aires, Argentina in 1982. The often contentious interview ended with Corn hanging up on Hewitt in disgust.
Hewitt began by grilling Corn about details of his own past from 30 years ago to prove a point, in defense of O'Reilly, about how memory can be unreliable, a tactic Corn quickly labeled "B.S." The Mother Jones editor proceeded to accuse Hewitt of "playing games" with him as the radio host tried to prove he had a "motive" for discrediting O'Reilly. Later, Corn took offense at the way Hewitt appeared to be "dismissing" the George Polk award he won for obtaining the Mitt Romney 47% video.
Ultimately, the two did get into the heart of matter, discussing the semantics of whether O'Reilly was really in a "war zone" or a "combat situation" in Buenos Aires, a description two of his former CBS colleagues have disputed.
But they could not come to any sort of agreement with Corn getting more and more exasperated by Hewitt's questioning as the interview progressed to its final, abrupt ending.
Listen to the full audio below, via The Hugh Hewitt Show:
And you can read the full transcript at hughhewitt.com.
[Photo via screengrab]
— —
>> Follow Matt Wilstein (@TheMattWilstein) on Twitter
Have a tip we should know? tips@mediaite.com