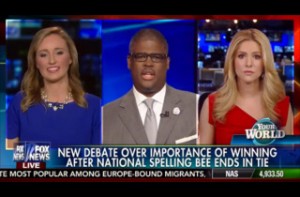 Fox commentator Charles Payne headed up a panel discussion about how the tied win in the Scripps National Spelling Bee was a harbinger of the moral decline of America.
The fact that, for the third year in a row, the contest ended with two winners instead of one was a potent symbol of a waning American ethos that once celebrated competition.
Payne noted that social media saw many "Critics blasting the fact that there was no winner after all of the build-up." (In fact, there were two winners: Nihar Janga, 11, and Jairam Hathwar, 13, but I suppose they cancel each other out.)
"Come on! What kind of message does this send?" asked Emily Jashinsky. After establishing her credentials as a "Millennial," she argued that there was a "direct connection between what we were taught when we were kids — that our feelings trump reality and the sting of defeat is not as important as our own feelings — and what's happening on college campuses right now."
She made specific reference to the protests last year at the University of Missouri and more recently at California State University-Los Angeles (CSULA) when conservative pundit Ben Shapiro's speech was disrupted by protesters.
The invocation of CSULA was not incidental: Jashinsky is spokeswoman for Young America's Foundation, which filed a lawsuit in federal court against CSULA's president and several other administrators and faculty members last week.
Jashinsky continued: "It's having a real impact on our society. I don't like the message this sends."
Kristen Haglund, who was Miss America in 2008, said we should be celebrating the hard work and discipline that empowered these two kids to beat not only the thousands of other contestants but Scripps' own attempts to make the bee several times more difficult precisely in order to avoid a tie.
"This is far form giving every kid a trophy," she said. "There were literally thousands of losers and they couldn't stump these two guys."
Payne averred that "someone should have won this thing."
Jashinsky agreed, saying that having to share the victory "cheapened" it. "While they may be okay with it now, I have to imagine that in the future, they're gonna wish that they were actually able to take home it all," she said.
Payne said the tied bee reflected "a country that is sort of stuck in neutral." Millennials in the workplace "think they're gonna get the gold watch on the first day, not the last day." Young people needed to learn how to lose, but "gracefully."
Though if this clip is any indication, grace was in short supply at the spelling bee…
—
[image via screengrab]
Sam Reisman (@thericeman) is a staff editor at Mediaite.
Have a tip we should know? tips@mediaite.com