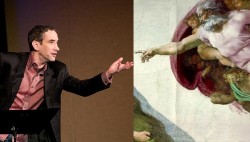 Much like Vanity Fair dispatching a greenhorn naif into the unknowable badlands of Brooklyn, The Daily Beast recently sent its resident new media writer, Douglas Rushkoff, on a recon mission into the heart of 4chan. Rushkoff, the one-time would-be Tom Wolfe of the hacker counterculture, was tasked with living among the inhabitants of this online chamber of wonders/horrors and hopefully not coming back shivering from HTMaLaria, or riddled with digital assegai wounds, or something, we guess.
Rushkoff writes:
[I]n spite of the Web's seemingly secure and consumer-friendly facade, there is still some Wild West left out there. And 4Chan is the OK Corral. So like a middle-aged Australian businessman going on walkabout, I decided to spend a couple of weeks embedded in this famously depraved, raucously fertile community.
Rushkoff's recent pieces for the Beast included "How Iran's Hackers Killed Big Brother" (which, amazingly, is just as facile and utopian as it sounds), so taking on the Internet's foremost collection of memetic miscreants ought to be a snap, right?
It feels a bit like walking through a bad neighborhood—one where if you break some custom you're unaware of, you could get hurt. As I perused the porn, the 30-word manifestos against American hegemony (filled with misspellings), the flame wars between gamers about the superiority of one console over the other, I got the overwhelming sense that I had landed in the Internet's equivalent of the parking lot behind a 7-Eleven. Gamers, geeks, and losers who had nothing better to do than post stills from videogames with obnoxious or occasionally witty inside jokes.
Oh, Douglas! For a guy who was shouted out of a Park Slope email list as a "racist…weak-kneed liberal," you sure are quick to compare undesirable websites to bad neighborhoods!
Anyway, Rushkoff stumbles blindly through the chaparral, musing on the 4chan/AT&T donnybrook, the site's role in the creation of every Internet meme your aunt now sends you email forwards about, and What It All Means, before stumbling upon…wait for it…child pornography!
It hit me harder and deeper than I thought it would. Not just the image, which set off its own chain of emotions in me as a parent, but the fact that this contraband was now in my cache, on my hard drive somewhere. I had visions of Pete Townsend getting carted off by the cops for "researching" child porn.

So I was infected, after all. Not just by an indecent, illegal image, but by indecency and illegality itself.
Doug, did you ever think that if a site's efforts to purge itself of illicit images of children was ongoing and high-profile enough to be reported in both the New York Times and Wikipedia, that that site might actually, maybe, contain child pornography?
Leave aside Rushkoff's simplistic conclusions (4chan = weird Internet stuff, a point which hasn't been written a thousand times before) and obvious discomfort with contemporary online jargon (you weren't "trolling," Douglas, you were "lurking"!), though, and take a look at the image that accompanies the piece (on the far left, below), along with its antecedents:

Threatening shadows…just enough computer equipment framed to establish the shot…where have we seen this before? 1995, perhaps? Or maybe a certain 4chan-centric news incident just a few years ago?
Rushkoff's metaphors aren't much better – while no one expects him to go off about liminal spaces in describing the Internet (the Daily Beast, for all its cocktail-chatter posturing and Bottega Veneta sponsorships, is not the Virginia Quarterly Review), the Wild West comparison has been flogged daily since before Mosaic had a userbase.
But all of these quibbles are avoiding the real question: Is Douglas Rushkoff – who only a few years ago was  preaching about how we'd all soon be jacking ethernet cables directly into our cerebella and dealing chemstims on some burned-out corner of The Ecumenopolis and merging our neural imprints effortlessly with the computerized worldmind – now turning in boilerplate the-Internet-will-warp-your-children moral panic pieces for the Daily Beast?
Why, yes, he is! Rushkoff, a writer who made his bones describing the unwholesome social underbelly of the information revolution, from software piracy to psychedelics to David Cronenberg, ought to be able to distinguish that 4chan is not a hacker website; it is a website whose users include hackers. Even within the confines of a 750-word column, his responsibility to the reader ought to trump his need to write Hard Copy-esque headlines on the order of "The Web's Dirtiest Site!"
No matter how consumer-friendly the Internet gets, no matter how many sites get desktop widgets and iPhone Apps and flash-enabled DIY tools and robust GUIs and pretty rounded corners, there will always be a Wild West "element" online. Using platforms either so new that people outside the most arcane of tech circles have never heard of them (Twitter, two years ago) or so old that they're off of mainstream radar (IRC chat, Telnet), people interested in the workings of the Internet will always meet, and exchange knowledge, and hone a double-edged capacity for innovation and malice.
If Douglas Rushkoff – mellowed as he is by age – can't recognize that, then he is probably no longer sufficiently connected to online subcultures to comment on them. Either that, or he's perfect for the Daily Beast. Your call, Ms. Brown!
Have a tip we should know? tips@mediaite.com