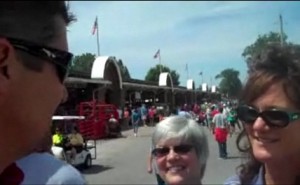 Deep-fried butter wasn't the only treat on display over the weekend at the Iowa State Fair. Former Alaska Governor Sarah Palin was also on hand to increase her stores of other people's thunder, but not everyone was enthralled with the GOP superstar. One fairgoer confronted Todd Palin over his wife's decision to quit the Alaska governorship, resulting in a viral video exchange that was captured by the San Francisco Chronicle's Dollar Store Microphone Department. The paper also caught the extended remix of Jake Tapper's heifer-delayed Q&A with Palin.

The first clip picks up just as Todd Palin tells the woman to watch The Undefeated, the recently-released Palin documentary, to find out why she quit. Todd asks her, "What would you recommend doing when you've got $600,000-700,000 hangin' over your head, and you still have all these people signing ethics complaints against you? What would you do?"
The woman's well-played response? "Well, you go for the money, obviously. That's what she did."
Todd gamely hangs in there, but the confrontation ends with the woman walking away, yelling "Sell-out!"
Aside from being a tasty morsel of deep-fried viral junk-food, the exchange illustrates the true folly of the media's (admittedly waning) fascination over the "will she or won't she" question. Setting aside all of Palin's pros (energetic supporters, megawatt charisma) and cons (insert your own list here), the minute Palin's presidential ambitions morph from entertaining bustravaganza to actual campaign, the fact that she quit the governorship instantly settles the question.
The Chronicle also captured an impromptu Palin press gaggle at the Iowa State Fair and Ambient Noise Jamboree, including some Palin responses that were left out of This Week's Iowa clips package. Palin talks a bit more about the time frame for her decision, and says she would run an "unconventional campaign," and would look to hire people "outside that political bubble."
Palin also made a rare admission of a mistake, backing off of an earlier statement (and possible dig at newly-minted candidate Gov. Rick Perry)that Alaska's constitution provided for "very, very strong governor's office," as opposed to Texas. Palin volunteered, "We want conviction and passion and candidness — even if through that candidness you make mistakes and you say things like 'the executive power in Texas is different than the executive power in Alaska.'"
On her deadline to decide if she's going to run, Palin told Jake Tapper, "I don't want to be seen as stringing people along," and, in explaining how the long wait would be unfair to supporters, spoke about the necessity of letting them know who they should support. After several recent statements in which she talked about her decision in terms of releasing her supporters to other candidates, though, it certainly is beginning to seem like those supporters are being strung along.
Here's the clip, also from The San Francisco Chronicle:
(h/t TPC)
Have a tip we should know? tips@mediaite.com