Iowa Governor Offers Mitt Romney Advice: 'Better Get To Iowa Before It's Too Late'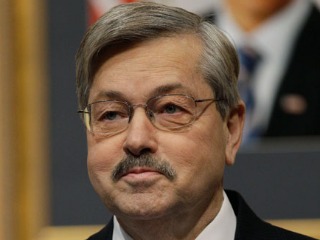 Iowa governor Terry Branstad (R) paid a visit to The Laura Ingraham show to discuss, among other topics, his thoughts on some of the GOP front-runners thus far — namely, Michele Bachmann and Rick Perry. In fact, Branstad told host Laura Ingraham that he'd had breakfast with Perry. ("Show off!" she responded.)
Branstad kicked things off by offering Perry some strategic advice:
I talked to Governor Perry and I said I think he made a good impression, but I think it's important that he spend a lot of time here. He's going to the State Fair today; that's a good thing to do. He needs to get all over this state. I recommended that he do what Chuck Grassley and I do: go to all 99 counties, actively campaign, get out, meet with people, answer their questions. And I think that's how you win elections. I've always said, if you're running for state representative or president of the United States, you gotta work harder than the other candidates, you need to go everywhere and be accessible and meet with the people. I have press conferences every week and I think people appreciate having a leader that listens. And he's got a record, you know, of creating jobs in Texas and I think people are looking for somebody who's going to reduce taxes and regulations and revitalize the private sector economy — and this administration doesn't have a clue! They want to do the opposite; they want to raise taxes, they want to regulate us to death, and that's killing the economy and Obama's health care is something that's unaffordable and unsustainable.
Later on in the interview, Ingraham wanted to know if Perry would prove to be a force to be reckoned with, even though Bachmann has been working hard and putting it lots of legwork so far:
Hey, I am so excited because we have a real grassroots campaign and Michele Bachmann deserves a lot of credit. In 48 days, she came from nowhere to come in and win this straw poll — but the straw poll is just the beginning and now the caucuses are coming up we know last time, it was Romney that won the straw poll, but then Huckabee beat expectations and parlayed that into winning the caucuses.

I guess my advice now is to Mitt Romney: You'd better get here to Iowa before it's too late. Because this is going to be a real contest and this state launched Obama and we're going to sink Obama. And the Iowa voters are going to decide who they think is the strongest and best candidate to lead this state and to lead this nation. And I know this state pretty well and Iowans are spoiled by attention. They want to see the candidates, they want to make their own judgment and I think that we could have a tremendousm wide-open race here. And obviously Obama knows he's in trouble and that's why he's coming to Iowa.
Branstad also weighed in on Ron Paul (Spoiler: He doesn't think he'll be President)
Have a listen, courtesy of The Laura Ingraham Show:
Have a tip we should know? tips@mediaite.com