Iranian State News Agency: CNN Fabricated President's Quotes About the Holocaust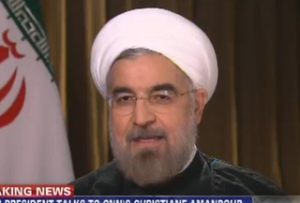 On CNN yesterday, Iranian president Hassan Rouhani spoke about the Holocaust, saying it was a "reprehensible and condemnable" act. At least, that's how it was translated. FNA, Iran's state news agency, wrote today that CNN fabricated Rouhani's quotes, adding and twisting what he said.
Here is what the English translation of Rouhani's relevant comments on CNN said:
"I've said before that I am not a historian, and that when it comes to speaking of the dimensions of the Holocaust, it is the historians that should reflect on it. But in general I can tell you that any crime that happens in history against humanity, including the crime the Nazis created towards the Jews, is reprehensible and condemnable. Whatever criminality they committed against the Jews, we condemn. The taking of human life is contemptible. It makes no difference whether that life is Jewish life or Muslim."
And this is what FNA claims to be the exact English translation of what Rouhani said.
"I have said before that I am not a historian and historians should specify, state and explain the aspects of historical events, but generally we fully condemn any kind of crime committed against humanity throughout the history, including the crime committed by the Nazis both against the Jews and non-Jews, the same way that if today any crime is committed against any nation or any religion or any people or any belief, we condemn that crime and genocide. Therefore, what the Nazis did is condemned, (but) the aspects that you talk about, clarification of these aspects is a duty of the historians and researchers, I am not a history scholar."
FNA is accusing CNN of completely misrepresenting Rouhani's meaning with comments appearing to be very positive about the Jews.
[h/t POLITICO]
[photo via screengrab]
— —
Follow Josh Feldman on Twitter: @feldmaniac
Have a tip we should know? tips@mediaite.com
Josh Feldman - Senior Editor