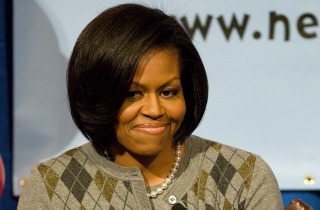 First lady Michelle Obama said something Wednesday school children across the U.S. might have thought they'd never hear: "No one really cares what you had for lunch."
Obama made the remark during a White House event Wednesday in which she appeared with former first lady Laura Bush to discuss women empowerment around the world.
Obama said the subject can be an ongoing conversation through social media. "I tease my kids," she said as an aside. "I tell them I want them to use Instagram to take a picture of something really important rather than their food… I mean, no one really cares what you had for lunch."
Yes, she's specifically mocking Instagram habits, but, as it happens, no one has been more vocal in 2014 about caring what young people have for lunch than Obama:
On July 18, Obama hosted a kid's "State Dinner" at the White House to "celebrate nutritious, delicious, lunchtime dishes."
On June 12, Obama hosted an event wherein "nutrition directors" and students from middle schools in Washington, D.C., came to the White House to gather crops from her garden and make lunch.
On June 10, Obama announced the winners of her "Healthy Lunchtime Challenge," a nationwide contest for children 8-12 years old which she has held for the past three years.
On Feb. 25, the White House put out a press release that read: "First Lady Michelle Obama and U.S. Department of Agriculture Secretary Tom Vilsack announce proposed school wellness standards and roll out of breakfast and lunch programs for schools that serve low income communities."
On Jan. 23, the White House announced that Obama had partnered with Subway restaurants to "only offer items on its kids menus that meet strong nutritional guidelines informed by federal standards for the national school lunch program, including offering apples as a side and low-fat or non-fat milk or water as a default beverage."
And that's just in 2014.
It's almost puzzling that Obama hasn't actually started a contest encouraging young people to share photos of their lunch on Instagram.
To be sure, this was uploaded to Michelle Obama's own Instagram account in July 2013:
[Image via Shutterstock]
— —
>> Follow Eddie Scarry (@eScarry) on Twitter
This is an opinion piece. The views expressed in this article are those of just the author.