'It Is On, People': Twitter Reacts to Trump Going to War With Former Lawyer Michael Cohen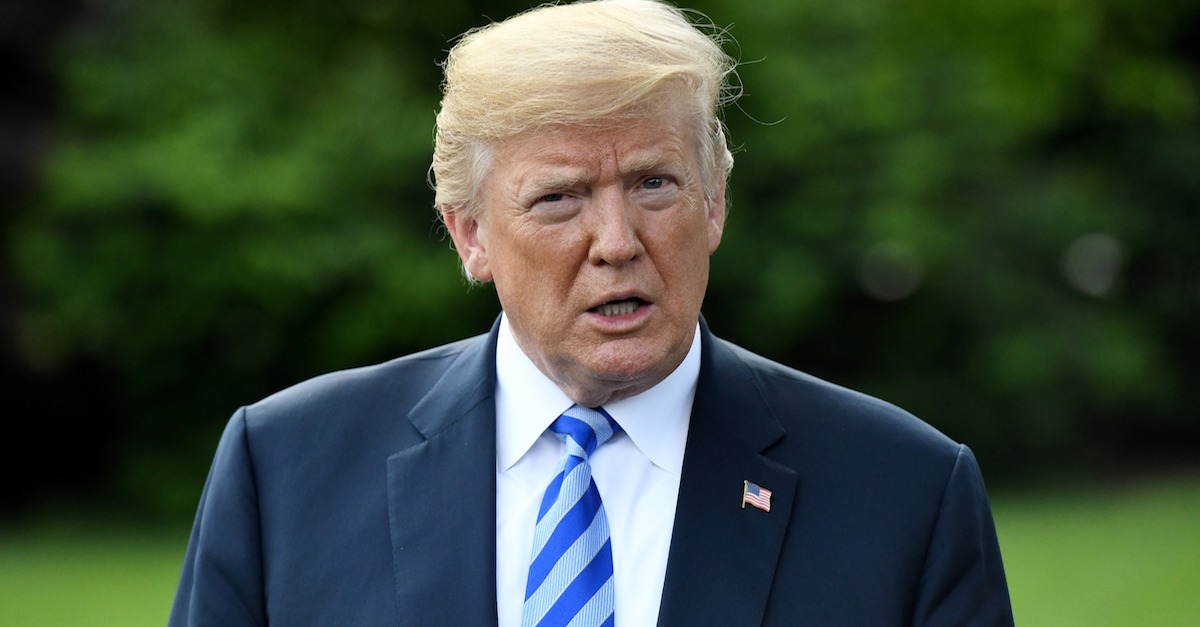 Tensions between President Trump and his former personal lawyer Michael Cohen exploded into a public fight on Friday, after a week in which it became apparent Cohen had turned on his former client — and Trump fired back.
Trump is under pressure over the news that Cohen is claiming he personally authorized his son's 2016 meeting with a Kremlin-linked lawyer at Trump Tower, something the president has denied many times. Trump has gone on a Twitter rampage in light of this development, slamming Robert Mueller for scrutinizing his tweets while saying Cohen is "trying to make up stories" to get himself out of trouble.
Now, since the president and his former attorney are both accusing each other of lying, it only adds a new dimension of intrigue and questions about Trump's connection to Russia — and whether Cohen is prepared to tell-all to the Special Counsel.
The question now is who is lying: Michael Cohen or President Trump? https://t.co/Da3mQVPh18

— Manu Raju (@mkraju) July 27, 2018
if it comes out that he did know, he can just go with, "i meant to tweet that i did NOT, NOT know of the meeting" https://t.co/nk7I6oN5Gt

— Sam Stein (@samstein) July 27, 2018
So we're running with the taxi thing, huh? https://t.co/25IjJeiW3U

— Alex Griswold (@HashtagGriswold) July 27, 2018
Under the circumstances, perhaps better not to advise others on their choice of legal counsel https://t.co/ZaUMwKdcfd

— Josh Gerstein (@joshgerstein) July 27, 2018
It is on, people. https://t.co/4JMFdSRYv2

— Bill Hemmer (@BillHemmer) July 27, 2018
The Michael Cohen v Donald Trump derp cage match is a gift to humanity. https://t.co/uQu1FZDWTY

— Josh Marshall (@joshtpm) July 27, 2018
The unfortunate outcome of wielding so many false narratives is that they eventually cancel each other out and you are left ranting to yourself. https://t.co/f5GsIGMZqz

— Dr Benjamin Janaway #WWCSD (@drjanaway) July 27, 2018
Well, OK, that was dumb to do just now…. https://t.co/5kgH9cJ37f

— Bradley P. Moss (@BradMossEsq) July 27, 2018
Just like you didn't know anything about paying off porn stars before the election…??? https://t.co/AS8u9oQkcY

— Tara Setmayer (@TaraSetmayer) July 27, 2018
Michael Cohen is off the White House Christmas card list, it appears. https://t.co/iiuNioBoPx

— David Martosko (@dmartosko) July 27, 2018
Two reactions:
1.) He's lying.
2.) First sign of throwing his son under the bus? https://t.co/PHVS9E3bW7

— David Rothkopf (@djrothkopf) July 27, 2018
I like the bit where he scapegoats his own son https://t.co/GiVY2y6GGi

— Eliot Higgins (@EliotHiggins) July 27, 2018
Just like you lied when you said you didn't know about the porn star payoff.

Just like you lied about the Playboy payoff plans

Just like you lied about the Russian meeting being about adoptions.

You just keep lying. https://t.co/0boFzGuYHQ

— Joe Scarborough (@JoeNBC) July 27, 2018
[Photo via Getty images]
— —
>> Follow Ken Meyer (@KenMeyer91) on Twitter
Have a tip we should know? tips@mediaite.com