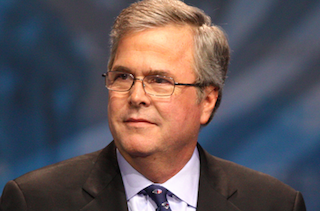 As Floridians began to perform their first same-sex marriages this week, former Governor Jeb Bush said he believes the issue should be decided at the state level and lamented the fact a federal judge had overturned the state's 2008 ban. But even that mild disapproval of the decision is a far cry from Bush's 1994 view on the subject, as uncovered by BuzzFeed's Andrew Kaczynski and Ruby Cramer.
In a 1994 editorial for The Miami Herald as he was running for governor the first time, Bush argued that same-sex couples do not deserve the same legal protections as other minorities.
"The public policy question is whether homosexuals deserve special legal protection from otherwise legal, private acts of discrimination, which protections are not available to smokers, drinkers, children, redheads, Midwesterners, Democrats, veterans, nudists, etc.," Bush wrote at the time. "Or, to put it another way, should sodomy be elevated to the same constitutional status as race and religion? My answer is No. We have enough special categories, enough victims, without creating even more."
Aside from the overall position, it's the use of that word "sodomy" that is likely to cause the most controversy for Bush twenty years later as he likely gears up for a presidential campaign.
In a response to BuzzFeed, Bush spokesperson Kristy Campbell issued this statement:
"Gov. Bush believes that our society should have a culture of respect for all people, regardless of their differences, and that begins with preventing discrimination, including when it comes to sexual orientation. This opinion editorial from 20 years ago does not reflect Gov. Bush's views now, nor would he use this terminology today."
Jeb Bush is positioned to be on the moderate side of the 2016 Republican field, but commentary like this could help align him with the far right leaning segment of his party.
[Photo via Gage Skidmore/Wikimedia Commons]
— —
>> Follow Matt Wilstein (@TheMattWilstein) on Twitter
Have a tip we should know? tips@mediaite.com