Jersey Shore Ep 8 Recap: Vinny Appears To Be Psychologically And Emotionally Damaged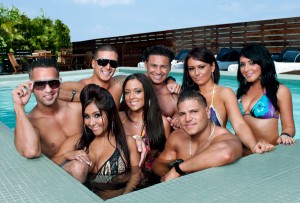 On last night's pre-VMAs episode of Jersey Shore, we got to know the person who is turning into one of the stars of season 2 – sweet, momma's boy Vinny.
His family came to visit, and it was fun for everyone to eat a big meal and spend QT with the fam. But Vinny's true nature was revealed in two very different interactions with women.
One of the few missing pieces of the tour de force that was Jersey Shore season one was the inter-cast relations that we've grown accustomed to with Real World seasons. It's the soap opera model of entertainment, with the characters we've grown to be familiar with getting placed in situations where we see them interact (and 'interact'). Besides the Ronnie–Sammi true love, all we got was the seasons finale make-out between Snooki and The Situation. But that changed this year. Vinny has slept with Angelina and Snooki, and Angelina made out with Pauly D. We're seeing the ripple effect of tension within the house that comes from these interactions, and it's adding to the season's drama.
Episode eight picks up in the midst of this – with Vinny having incomprehensibly just slept with Angelina, his enemy in the house. The reaction from the housemates is shock and awe. "That makes you look like a fucking whore," says Snooki, while The Situation calls her "a fucking hypocrite." Vinny sums up his reaction with "they don't make women like my mother anymore."
But then he says something else. "It's called 'when a guy is a dick to you, he owns you,'" he says while explaining his conclusion about why a person like Angelina would ever sleep with him. When a guy is a dick to you, he owns you. It's a blunt statement that echoes a misogynistic mentality, that would be even more offensive if, in this particular case, he wans't sort of right. Obviously, Angelina, who clearly has self-esteem issues among others, is an exception. But she avoids the advances of Jose, a legitimately nice guy who treats her well, while turning to Vinny instead.
Vinny would be another asshole if it weren't for his interaction with Ramona later. Ramona is an attractive dancer, who immediately Vinny decides is the type of girl he would like to bring home to mom and marry. Pauly D puts her in the category of "the rarest roses." He wants to treat this one right, and ditches his credo about being a dick and owning you in order to take her on a real date (he choses Pauly D double date, which is telling also). But his pitch is so far from the Vinny that landed Angelina in his bed just days earlier. On the phone, through embarrassing stumbles, he says Pauly D is going on a date and "I need like a sympathy date because I don't want to be left out." She agrees, and Vinny is ecstatic. (Contrast this with Pauly D's smoother and more successful method: "I was gonna take the girl I'm in love with. And then I figured you could come too." Laughs all around.)
Vinny and Pauly D launch into hyper-GTL (plus F, flowers and H, haircut). Then Ramona cancels. She can't even really begin to explain why, but it's pretty obvious. Who wants to go on a date with a guy who's looking for a "sympathy date"? Vinny is devastated, but before he gives up, he tries her again. It starts normal enough, with him correctly reminding her it's "just dinner." But then, he says this, word-for-word: "Please please please pretty please. I got you really nice flowers. Come on, please." This pathetic begging leads to her relenting and agreeing to come. Then, of course, she doesn't, and she doesn't answer her phone anymore either.
Without armchair-psychoanalyzing a reality show about guidos and guidettes too much, the extremes of Vinny's interactions seem to show some clear psychological and emotional issues. None of the guys in the house are bastions of class, but even Pauly D, who earlier brings a girl home from the club and purposely goes the non-"super-obnoxiously aggressive" route, seems to understand how to deal with women on a basic level. Vinny wobbles between thinking he can be a "dick" and then "own" them and literally begging girls he has more than a sexual interest in to grace him with their presence. It's a revelation about Vinny, who we thought was the good-natured Staten Islander, that we hadn't seen before.
Also this episode, Sitch found new ways to fail to sleep with a woman, but took a sandwich and enjoyed a "first row seat for a slam session." And Ronnie praised Angelina's game – she stuck with Jose, despite letting him know she hooked up with Vinny. Also apparently Ronnie and Sammi are just together now and everything's cool there.
—–
» Follow Steve Krakauer on Twitter
Have a tip we should know? tips@mediaite.com