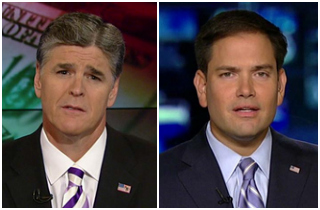 Sen. Marco Rubio (R-FL) drew some attention over the weekend when he told ABC's Jonathan Karl that he does not believe humans are affecting the climate in a way that can be affected by new laws and regulations. Wednesday, during an appearance on Sean Hannity's radio show, Rubio doubled down on those claims, saying it's "absurd" to think otherwise.
Hannity broached the issue by saying he agrees with Rubio's assertion that he does not "believe that human activity is causing these dramatic changes to our climate the way these scientists are portraying it." He said he wanted to give Rubio a chance to explain why he takes that stance.
"The climate is always changing," Rubio admitted, but when it comes to "man's role" in that change, he said he doesn't think there is scientific consensus as to "what percentage of a contribution man's activity has made" to that change.
"But here's what's more important as a policymaker," Rubio continued. "They're claim is that if we stop doing certain things, that will change back. That's absurd." When President Barack Obama or anyone else says after a tornado or drought, "This is because of climate change," Rubio said they are implying that "if we eviscerate our economy by imposing cap and trade, these things will stop happening. That's ridiculous."
RELATED: Brzezinski Mocks Scarborough's 'Long Road' to Defend Rubio's Climate Change Claim
Rubio concluded his remarks by employing an elaborate analogy with another piece of "settled science," which he said pointed out the "hypocrisy" on the left. "Science is settled," he said, "that human life begins at conception. So I hope the next time time someone wags their finger about science, they'll ask one of these leaders on the left, 'Do you agree with the consensus of scientists that say that human life begins at conception?'"
"That's a scientific consensus they conveniently choose to ignore," Rubio said.
"Boy, really well said," Hannity replied.
Listen to audio below, via The Sean Hannity Show:
[h/t The Right Pundit]
[Photo via screengrab]
— —
>> Follow Matt Wilstein (@TheMattWilstein) on Twitter
Have a tip we should know? [email protected]