According to the Bureau of Labor Statistics, the U.S. economy added a better-than-expected 236,000 jobs in February, while the unemployment rate ticked down to 7.7%, from January's 7.9%. Coupled with other recent positive economic news, such as Monday's record closing for the Dow Jones Industrial Average and the burgeoning housing rebound, the steady job growth puts added pressure on Congress and President Obama to replace the current sequester cuts, before the predicted consequences kick in.
From the Bureau of Labor Statistics:
Total nonfarm payroll employment increased by 236,000 in February, and the unemployment rate edged down to 7.7 percent, the U.S. Bureau of Labor Statistics reported today. Employment increased in professional and business services, construction, and health care.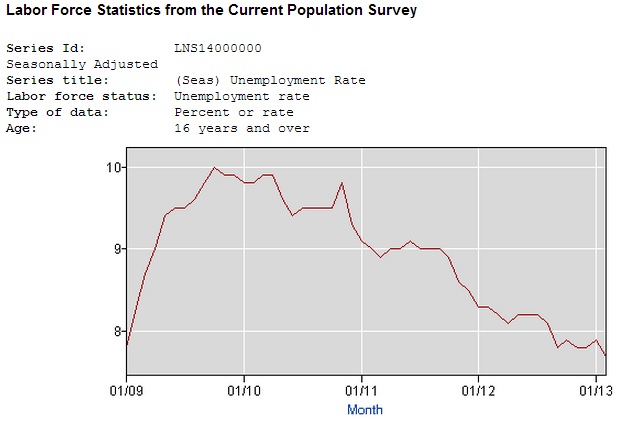 The report also included revisions for January and December, resulting in a net negative revision of 15,000 jobs:
The change in total nonfarm payroll employment for December was revised from +196,000 to +219,000, and the change for January was revised from +157,000 to +119,000.
That 7.7% unemployment rate is the lowest it has been since December of 2008, but if the Congressional Budget Office has it right, the sequester will cost the economy 750,000 jobs this year, and .6% of GDP growth.
Although President Obama has effectively made the case that he's done everything he can to avoid the sequester, the percentage of Americans prepared to blame both the President and Congressional Republicans has increased, even as the President's approval rating has taken a hit. His recent so-called "charm offensive" has  sparked some optimism in Washington that a deal might be possible, which is in both sides' interests. This month's economic news presents a very clear marker for measuring the effects of the sequester, and while more people still (rightly) blame Republicans for the mess, the narrowing of that gap means the President has an even greater political stake in getting a deal. Terrible PR moves like canceling White House tours, which take months to arrange, and which people arrange their whole vacations around, aren't helpful.
Have a tip we should know? tips@mediaite.com