John Conyers Allegedly Brought Up Murdered Chandra Levy When Intern Refused Sexual Advances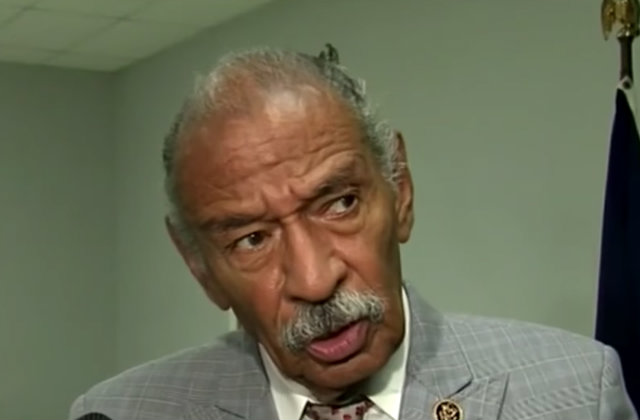 Former Representative John Conyers announced his retirement yesterday, after multiple women stepped forward to accuse the 88-year-old congressman of sexual harassment.
The longest-serving member of the House of Representatives announced this "retirement" on a Detroit-based radio program, saying "I want everyone to know how much I appreciate the support, incredible undiminished support I've received."
Of course, after facing numerous sexual harassment allegations, many people have taken issue with the word "retiring" instead of "resigning."
One such person? Former Conyers intern Courtney Morse, who told an absolutely terrifying tale to The Washington Post about just how far the Michigan representative would allegedly go to fulfill his sexual desires.
Conyers drove the intern home one night and propositioned her for sex, she claimed. When she refused, according to Morse, the politician "brought up the then-developing investigation into the disappearance of former federal intern Chandra Levy."
"He said he had insider information on the case. I don't know if he meant it to be threatening, but I took it that way," she said. "I got out of the car and ran."
That's right. The 20-year-old was so terrified by Conyer's comments that she got out of the car and ran.
What was that? A threat? The implication of a threat? The shadow of the implication of a threat? Just what was he trying to accomplish there with that Levy talk? Yikes.
Morse, who quit her job as an intern after the night-in-question, added her displeasure that Conyers has been allowed to retire in peace, instead of being forced to face some form of justice.
"It feels like an easy way out," Morse said. "He doesn't have to face an investigation now. If he is vehemently denying he did anything, then it's not about reconciling the issue. It's about protecting his legacy."
"He was one of those congressmen you look up to and you see as an icon."
This incident is alleged to have occurred 16 years ago, when Conyers was 72 years old. Morse, again, was just 20.
[image via screenshot]
—
Follow Lawrence Bonk (@sidescrollers) on Twitter
Have a tip we should know? tips@mediaite.com