John McCain, Lindsey Graham Praise Obama Nominee Involved In Benghazi Talking Points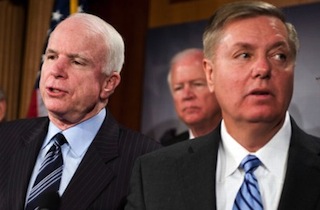 Senators John McCain and Lindsey Graham released a statement supporting Barack Obama's new nominee for assistant secretary for European and Eurasian Affairs at the State Department—which is odd, as Victoria Nuland was instrumental in crafting the Benghazi talking points, for which McCain and Graham have savaged the Obama Administration.
"Ambassador Victoria Nuland has a long and distinguished record of service to our nation in both Republican and Democrat Administrations," the two senators and partners in crime wrote in a joint statement on Friday. "She is knowledgeable and well-versed on the major foreign policy issues as well as respected by foreign policy experts in both parties. We look forward to her upcoming confirmation hearings in the United States Senate."
A career foreign policy official who served as an advisor to Dick Cheney and George W Bush, Nuland was long expected to be Obama's nominee for the post. That was until the twelve drafts of the Benghazi talking points became a Republican smoking gun in their endless investigation over the administration's response to the attack on the Libyan Embassy. ABC News released emails showing Nuland objecting to the inclusion of a paragraph potentially linking the attacks to al-Qa'ida, warning that the language "could be abused by members to beat up the State Department for not paying attention to warnings, so why would we want to feed that either?"
The White House seems to have made it through the talking points pseudo-scandal intact, and some questioned whether it would really want to dredge the drama up again by nominating someone so centrally involved.
This is doubly true as any nominee for any position faces a tough approval process from the more dyspeptic GOP Senators like Ted Cruz and Rand Paul. In fact, that may be McCain's and Graham's motivation, as McCain was last seen blowing his top over Cruz's pointless obstructionism in debt negotiations, and seems to be generally losing patience for the Tea Party cabal's passion for legislative dysfunction. McCain may be signaling to the junior senators that the time has come for some procedural normality, starting with approving nominations for qualified individuals.
Still, for McCain and Graham to praise a figure so key to the conflict over which they were, until recently, quite vociferous, marks quite an about face, and could foreshadow a divide amongst the GOP when Nuland's nomination comes to the floor.
[h/t The Hill]
—
>> Follow Evan McMurry (@evanmcmurry) on Twitter
Have a tip we should know? tips@mediaite.com