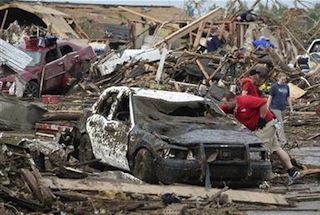 9-1-1 recordings from Moore, Oklahoma, gave a harrowing glimpse of the experiences of tornado victims, as CNN juxtaposed tapes of the emergency calls with terrifying footage of the approaching cyclone.
"It is almost impossible to imagine what people were going through," Wolf Blitzer said of the vicious tornado that devastated Moore on Monday, "but these tapes tell some of the story."
The most haunting is a man who calls, pleading, "We've got a daycare full of babies! We need help bad, we've got a daycare that just got cremated."
Later, an operator talks to a young woman to determine if her family is trapped by rubble, as emergency personell could only respond to the direst of cases.
"Are they trapped, or they can they get out in any way?" the operator asks. "We've got several places hit, I need to know this now."
"We could possibly get out, " the woman responds. "Everything in front of us, from what we can see, is wiped out."
"Try to get out if you can," the operator says. "If something happens and someone cannot get out, call us back."
One of the callers is trapped in a closet, reporting that she's uninjured but can't breathe. One call even comes from a man outside of Moore, claiming he just heard from a resident whose house had collapsed on his children.
Throughout the audio runs footage of the tornado, which only intensifies the terror of the voices. One woman is heard asking where the tornado is, and, presumably upon seeing it, lets out a chilling "Oh my god."
Watch the whole segment below:
[h/t CNN]
—
>> Follow Evan McMurry (@evanmcmurry) on Twitter
Have a tip we should know? tips@mediaite.com