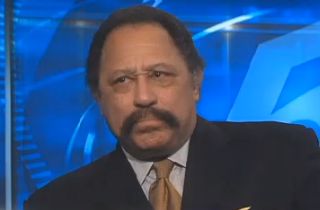 Judge Joe Brown is going down… for just a few days.
The former reality TV show judge turned himself over to authorities on Thursday for a contempt of court charge he incurred last year after losing his temper during a child custody hearing. Shelby County Court told ABC News that Brown was shouting that he would "close this place down," and questioned the authority of the judge after being told to quiet down.
Dan Michael, the court's chief magistrate, said, "This is the real thing and as an officer of the court he should have known better."
Brown was Memphis' first ever black prosecutor, and before he presided over his TV courtroom for 15 years, he oversaw hearings about the rifle used in the death of Martin Luther King. His sentence will last only five days, and he shall be kept in a solitary cell due to concerns about being attacked by inmates.
As he was being taken to prison, WMC asked Brown to comment on the irony of himself now being the one judged. Brown responded, "you might have asked (Nelson) Mandela, Martin Luther King, Rev. (Joseph) Lowery, Stokley Carmichael, you might ask those people who just got arrested in Ferguson, what it's all about."
Brown also gave a statement before he entered prison:
I will not apologize for vigorously defending my client and demanding that the court follow the law. What I saw was a miscarriage of justice and I did what needed to be done.I will serve the time and I will continue stand up and speak out for justice as I have done throughout my 40-year legal career.When our courts don't follow the rule of law, justice is in jeopardy for everyone. Thank you to all of my supporters. Your prayers and well wishes are appreciated.
You can watch a report on the story here:
WMC Action News 5 – Memphis, Tennessee
[h/t NY Daily News]
[image via screengrab]
Have a tip we should know? [email protected]