Julian Assange Is Australia's Newest Senate Candidate Despite UK House Arrest, Says Wikileaks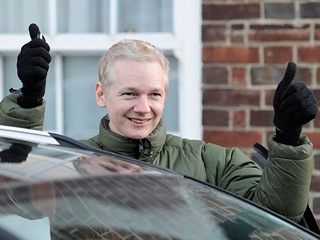 Julian Assange has been under house arrest in the UK for some years now but, according to the official Twitter account of his organization, Wikileaks, he is going to take a shot at running for a seat in the Australian Senate, anyway. Close to 10PM last night, @Wikileaks announced that they had found it was "possible for Julian Assange to run for the Australian Senate while detained. Julian has decided to run." Talk about a Friday night news dump.
RELATED: Wikileaks Chief Julian Assange Lands Talk Show Gig On RT
While a tweet or two from a notable name is usually not enough to merit a headline, this one certainly caught our eye last night, from previously explosive but mostly mum nowadays information leaking organization Wikileaks: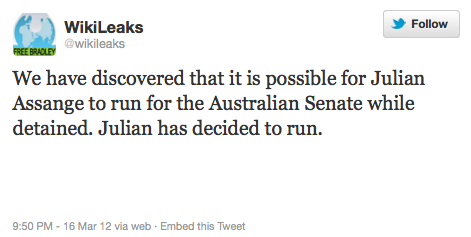 Yes, it's true. Or at least it appears to be, and there seem to be no signs that the Wikileaks account was hacked, especially in light of the fact that articles suggesting this may happen in the future have been written and the account asked for legal help from Twitter regarding whether a run would be possible.
The account then tweeted out a link to this article, which in turn quotes the provision in the Australian Constitution that disqualifies eligible candidates (any Australian citizen over 18 elegible to be an elector of the State (emphasis mine):
Any candidate who is attainted of treason, or has been convicted and is under sentence, or subject to be sentenced, for any offence punishable under the law of the Commonwealth or of a State by imprisonment for one year or longer… shall be incapable of being chosen or of sitting as a senator or a member of the House of Representatives.
The reasons for Assange's house arrest– inappropriate and potentially illegal sexual behaviors– occurred in Sweden, and he is under arrest in the UK after an Interpol warrant went out. He is not under arrest for violating any of Australia's laws, and so his legal status doesn't seem to interfere with the possibility of a candidacy.
Wikileaks is as of yet not saying which state Assange will decide to run in and, given that he has not been to Australia for years, this may become something of a hurdle. The Guardian reported the news this morning, where a political science professor argued that, as long as Assange is on electoral registration rolls even while living abroad, he is eligible to run wherever it is he is registered. Wikileaks promises it will release the information "at the appropriate time," however, given the number of Assange-related projects that fell by the wayside in the past few years– from the autobiography to the RT America series that never seemed to come afloat– it would be wise to take this campaign with a grain of salt.
[Photo via Wikileaks Central]
Have a tip we should know? tips@mediaite.com