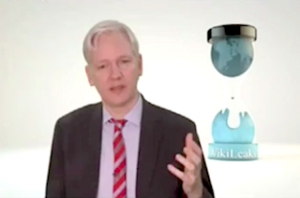 Friday morning, WikiLeaks founder Julian Assange participated in an online chat session hosted by Campus Reform, in which he offered up some special praise for conservatives Matt Drudge and Sen. Rand Paul (R-KY). Assange applauded The Drudge Report for disrupting the "self-censorship of the establishment press" and held up Paul as one of the most "principled" members of the U.S. Congress.
Responding to questions from Campus Reform editor-in-chief Josiah Ryan, Assange began by calling Drudge a "news media innovator" who has been on the rise since the Monica Lewinsky scandal. "It is as a result of the self-censorship of the establishment press in the United States that gave Matt Drudge such a platform," Assange said, "and so of course he should be applauded for breaking a lot of that censorship."
He also noted that social media has supplanted much of what Drudge is known for, which he described as "collecting interesting rumors that looked like they might be true and publishing them." Assange said he only agrees with "some" of Drudge's political opinions.
"I am a big admirer of Ron Paul and Rand Paul for their very principled positions in the U.S. Congress on a number of issues," Assange said, saying they have been some of his "strongest supporters" when it comes to attacks on WikiLeaks. He called the position of the "libertarian Republican right" an "interesting phenomenon." He pointed out that they principle of "non-violence" could include being against both drone warfare and abortion.
Watch video below, via Campus Reform:
[photo via screengrab]
—
>> Follow Matt Wilstein (@TheMattWilstein) on Twitter
Have a tip we should know? tips@mediaite.com