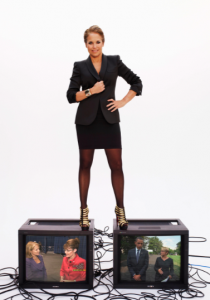 Only a few days before Diane Sawyer began anchoring ABC's World News, Harper's Bazaar's sat down with Katie Couric. The result: a flawless, sexy looking Couric; refreshingly lighthearted and honest. Mediaite got a first look at the spread.
The four-page spread, featuring images shot by photographer Francois Dischinger, touches the obvious Couric topics: She talks about the assumed "face-off" between her and Sawyer and explains that, with age, "the brouhaha just seems silly," and that, in fact, she says, "I think we like each other a lot."
She discusses her youthful "Tinker Bell nose," which she believes was a roadblock early in her career as well as her personal experience with the Salahis at the White House State Dinner, where she apparently complimented Michaele's dress.
While she claims her closet is mostly composed of classic MaxMara blacks and grays, the anchor managed to spice things up considerably for the shoot.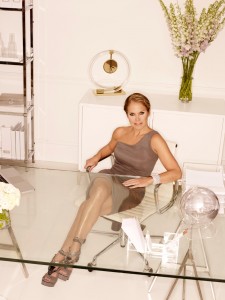 In one shot, she stands powerfully planted atop two televisions, sporting a form fitting black Armani skirt suit with sheer black tights and sky high gold Louboutins, looking authoritative.
The second shot shows Couric sitting seductively at a desk, bare-legged, in a beautifully contoured Calvin Klein one-shouldered cappuccino mini dress and a jaw-dropping Ivanka Trump cuff. In both shots, Couric commands the attention of the page – her flirtatious and dominating gaze is absolutely captivating and complimented beautifully by the styling of the shoot.
The March 2010 issue of Harper's Bazaar will be on newsstands February 16th.
Photographs courtesy of Harper's Bazaar, Photographs by Francois Dischinger.
This is an opinion piece. The views expressed in this article are those of just the author.