KY Clerk's Office Defies Court Order, Still Refuses to Issue Same-Sex Marriage License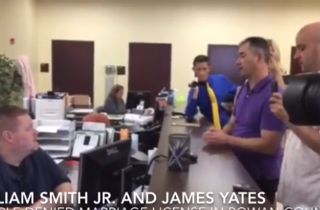 Just one day after a Kentucky clerk's office received a court order rejecting their appeal to withhold the issuing of marriage licenses, the office was filmed issuing its third rejection to a gay couple.
Rowan County Clerk Kim Davis was filmed, first in July, and again in August, declining to give gay couples licenses because of her Christian faith and right to religious freedom. Davis stopped issuing marriage licenses altogether after the Obergefell V. Hodges ruling, which led to a lawsuit against her office by two gay couples and two straight couples.
Yesterday, the 6th circuit court issued an order for her office to end its protest, stating that she cannot bar same-sex couples from marriage. James Yates and William Smith Jr. filmed their request for a license today, and captured their third rejection from the office.
Yates reportedly asked the clerk if this was a direct order from Davis. The employee responded that it was, and that Davis thinks that she can legally withhold licenses until the end of the month. Yates stated later that he will come back in a few days to try again, but does not expect a different result.
"They'll file something else to delay it and they'll make up more dates," Yates said to Kentucky.com. "They don't like gays and they don't want them to get married, and to stop it, they'll burn the Earth and not let straight people get married, either. That's all that matters to them."
You can watch here:
[h/t ABC News]
[image via screengrab]
Have a tip we should know? tips@mediaite.com