Fiorina Campaign Accuses CNN of 'Rigging the Game' to Keep Her Out of Debate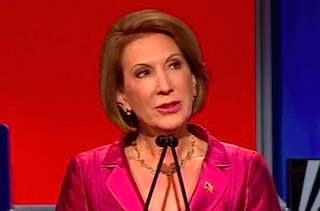 According to Google trends, polling data and most political pundits, Carly Fiorina "won" the so-called undercard debate on Fox News earlier this month, and may have made the biggest gains in the polls of any candidate, including Donald Trump, in the weeks since. Yet still, it looks like CNN's criteria will keep her out of next month's primetime debate.
Predictably, Fiorina is not happy about this development and is fighting back in interviews and now in an essay published on Medium by her deputy campaign manager Sarah Isgur Flores. "Despite being solidly in the top 10 by every measure, the political establishment is still rigging the game to keep Carly off the main debate stage next month," she wrote.
The campaign's case hinges on the numbers of major national polls that have been released since the first GOP debate. Because CNN is including polls dating back to July 16, they do not fully represent the increase Fiorina has seen as a result of her performance. So while, for instance, Real Clear Politics has Fiorina at #7 based on an average of post-debate national polls, she falls below the top 10 cut-off for the September 16 debate.
Fiorina's campaign has called on the RNC to treat post-debate polling with the same weight as pre-debate polling. If not, they say the party will "putting their thumb on the scale and choosing to favor candidates with higher polling for three weeks in July over candidates with measurable momentum in August and September.
"It will be interesting to see if CNN has no qualms excluding someone who is polling in the top 5 in Iowa and New Hampshire, in second place in multiple states, and well within the top 10 nationally," Isgur Flores wrote. "And it will be disappointing if Reince Priebus and the Republican establishment stand by and let a TV network keep Carly off the main stage… again."
Appearing on Morning Joe on Wednesday, Fiorina similarly expressed her disappointment with the rules, saying, "We don't have national primaries, we have statewide primaries, and there are loads of state polls now. They all say the same thing: I'm in the top five. And so I didn't think the Fox News rules were particularly good using national polls. I don't think the CNN rules are particularly good, especially since they go all the way back to mid-July."
And then, on Fox News tonight, Fiorina added, "If you're a professional politician and been in the game a long time or you're a celebrity, you're advantaged in national polls. If you're an outsider who literally most people have never even heard of before I launched my campaign on May 4th, you're disadvantaged."
As of now, it looks like CNN's primetime debate will feature the exact same 10 candidates who made the cut on Fox on August 6. That means, one candidate who Fiorina may have otherwise ousted, Chris Christie, will be on the main stage.
That might explain why he had this to say when he was asked about the issue during a radio interview today: "If Carly wants to quibble about debate rules I think she's wasting time quite frankly. Let's just get to the debate and have the discussions so the American people can hear our ideas and see what kind of leaders we'd be as president."
Watch video below, via Fox News:
[Photo via screengrab]
— —
>> Follow Matt Wilstein (@TheMattWilstein) on Twitter
Have a tip we should know? [email protected]