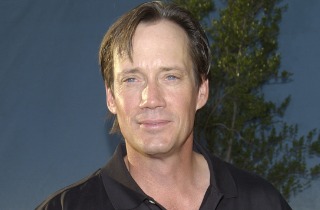 Actor Kevin Sorbo recently starred in a movie where he plays an atheist professor who––not to give the story away––gets what's coming to him. Or something. But Sorbo himself is a devoutly Christian man who has a bone to pick with atheists. And in a recent interview, the man formerly known as Hercules opined on how atheists are just so angry at a deity they don't even believe exists.
Yes, Sorbo doesn't think atheists' big gripes are with organized religion itself and any of its most devout or radical followers; instead, he thinks their resentment comes from some deep hatred of God. He said, "Why would anybody spend so much time ranting and raving about something that they don't believe in?"
RELATED: Kevin Sorbo Thinks Bill Maher Hates God Because He's 'Angry and Lonely'
Sorbo expressed his personal offense at atheists who try and take down nativity scenes, and bemoaned how the secular minority is apparently drowning out and repressing the voices of the Christian majority.
But Sorbo suspects that atheists secretly believe in God, and this is why:
"I know these guys must believe in something, otherwise they wouldn't get so angry about it, and they don't like the fact that there's a higher power out there that's judging how they live their life."
Listen to the audio below:
[h/t Raw Story]
[image via Featureflash/Shutterstock]
— —
Follow Josh Feldman on Twitter: @feldmaniac
Have a tip we should know? tips@mediaite.com
Josh Feldman - Senior Editor