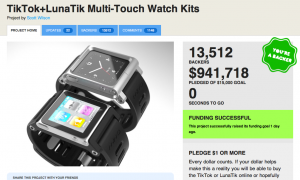 Okay, it's actually $941,718 — but still, it was raised inside a month and it's now officially Kickstarter's most successful project. Not that the online crowdfunding platform had anything to prove — according to Business Insider, Kickstarter has raised over $20 million so far and estimates its revenue at over $2 million this year alone.
Kickstarter, which takes 5% of all successfully-funded projects, makes a cool $47,085 off this one. So make that $2,047,085.
To the product: Chicago entrepreneur Scott Wilson is the founder of MINIMAL, a design studio integrating technology and consumer products. Wilson's big idea: A super-cool, high-end, wearable and durable watch casing for the iPod nano. The result: the TikTok+LunaTik Multi-Touch watch kits, with two separate versions meant to house your iPod nano and keep on you easily at all times. "I still believe that the wrist is prime real estate for technology in the future," says Wilson in the promo video, which raises a great point: wristwatches have fallen out of fashion, but efficiency and convenience have not, and device-carrying is always some sort of issue, particularly for the purseless (this was and is an issue with the iPad). Reclaiming the wrist as a potential platform for tech is adorably retro but actually novel in the world of 2.0. Also, it takes us that much closer to the Singularity.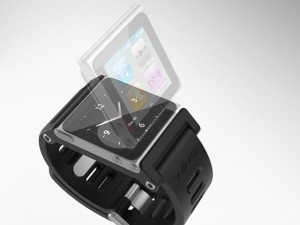 With over 13 thousand backers, it's a pretty damn impressive crowdfunding success story. Most of the backers pledged $25 or more, which snagged them one of the first-run watch casings. (iPod nano sold separately, obvs.) $25 earned a Tik-Tok, which allows the nano to snap in place a la ski bindings (retail: $34.95, available late December) and $50 scored the more permanent, your-nano-is-your-watch LunaTik (retail: $69.95, available in mid-January). A higher pledge got you a variation on both, and for true collector-geeks, $150 bought you "a serialized, red-anodized LunaTik Kickstarter Backer Edition signed via laser by the designer, Scott Wilson" – plus a Tik-Tok to warm your wrist while you wait for it. 1,398 backers picked up that sweet deal. True big spenders – $500 pledgers – got all that plus a party-pack of watches to give as gifts. 100 big-spending backers went there, no doubt earning them lots of upcoming nerd-love, especially if they spring for the nanos to boot. (Watch my wrist to see which one I got!)
How on earth did one guy from Chicago raise a million dollars in a month? (Especially when his goal was just $15,000.) Business Insider breaks down the best ways to Kickstarter success – have a great product that you're delivering to people is the number-one rule – and having something that springboards off an Apple product doesn't hurt, either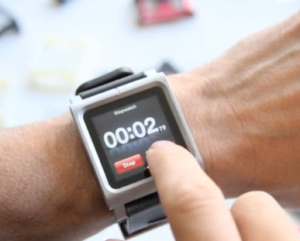 (see the iPhone 4-inspired Glif). Wilson hit those two sweet spots and more, offering a great, already reasonably-priced product at a discount, amping it up with extra-super-nerd-cool special features (see: serialized red-anodized laser-signed version) and packaging it all in a cool, polished video. Cue drooling and fumbling for credit cards.
It also got fantastic press. I heard about it via Adrianne Jeffries at the New York Observer, and clicked through to my own purchase immediately, thus belying the headline: "Apple Fanboys Smash Kickstarter Record With $500K for iPod Nano Watch." (Though a quick surf through the list of backers does seem to indicate a preponderance of male buyers, at least for the first few pages.) It was also a story with numerous angles – tech (Engadget, Mashable, Gizmag), design (Core77), general cool-factor interest (Gear Patrol) and the crowdfunding angle (CNN Money). For a project that was still selling up to EOD Dec. 16th, the press provided a nice little window for next-level adopters to get in on the action — and clearly they did, because the take almost doubled since passing the $500,000 milestone on December 2nd.
But one of the big drivers — and the common ingredient to all Kickstarter successes — is the novel way in which it was all unfolding. Nick Bilton covered the 'iPod watch explosion' on the NYT Bits blog earlier this month, and quoted Kickstarter co-founder Yancey Strickler noting that part of the drive was the "narrative into the process of how the product has been made… The design of the product itself is interesting and innovative,
but funding it through Kickstarter gives people input into the creation and artisanal method that goes into making this product." Being part of taking something super-cool to market — and then getting to wear the bragging rights on your wrist! — is unquestionably a factor in Kickstarter participation. I know this because that's what drew me to plunk my own cash down (or at least click that irreversible Amazon Prime pay button). Being part of something cool is one part – and owning something special with a shared history behind it is another.
That's the magic of Kickstarter. It's a platform based on community – tapping into it, giving back to it. People want to help make things, people want to be part of the next big thing. If you look at the Kickstarter Hall of Fame — the top 100 projects funded — you'll see a mixture of cool products like the Glif or a camera accessory with resources for the common good like recordable music free of copyright and fundraising for a jazz documentary. All of these projects tap into community not just for money, but for the driving force of people wanting to connect and be part of something. It could be anywhere along the spectrum from wanting strongly to promote an open-sourced personal web server or just to be able to brag that yeah, you got the Tik-Tok, how cool are you? The point is, Kickstarter provides that ineffable yet crucial return on the investment: Being part of something.
Also, getting a cool watch. Here's the video included in the original Kickstarter ask, featuring Wilson talking about his dream and making watches look super-cool again. Also running. I want to start running just to time myself on this thing.


TikTok+LunaTik Multi-Touch Watch Kits [Kickstarter]
Kickstarter Hall of Fame [Kickstarter]
iPod nano Watch Project Makes Kickstarter History [Mashable]
TikTok and LunaTik iPod nano watch kits look awesome, despite Ke$ha naming convention [Engadget]
Photos via the Tik-Tok & Luna-Tik Kickstarter page, and video.
Have a tip we should know? tips@mediaite.com