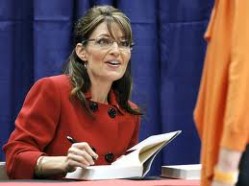 Last week news broke that Sarah Palin had filed a restraining order against an 18-year-old Pennsylvania man named Shawn Christy who had been making threats against her including that he was going to track her down at book signings and that she "better watch her back." Scary stuff. According to the Mat-Su Valley Frontiersman Christie has a long record of making threats against high profile figures.
Christy made more than 20 threats against President Barack Obama, more than 40 threats against 2008 Republican presidential candidate John McCain and another 40 against Palin. The Secret Service did its own investigation. Agents have visited Christy's home and spent hours talking to him on more than one occasion.
So clearly a disturbed guy. Andrew Sullivan thinks it's equally as disturbing how Palin fans have reacted to the news. From the Mat-Su Valley Frontiersman again:
The story went up on the newspaper's website. Minutes later, dozens of Sarah Palin-related sites had linked to the story. On Monday, our website had about 4,300 hits. After the story broke Tuesday, that number climbed to 8,700. Wednesday hits spiked to 75,000 and by Thursday afternoon we'd had more than 200,000 hits, mostly from new visitors.

Even after we broke the story that Christy is not in Alaska and has never been to Alaska, threats against him continued on our website and Facebook page. Many comments were not approved because they suggested hunting Christy and killing him. Folks asked us to post a picture of the young man so "decent" people could hunt him down and kill him. And that is exactly why we won't publish a photo that could identify him.We were shocked at the number of people from across the U.S. calling for his death and offering to pull the trigger on a .45 loaded with "liberal lead."
Here's Sullivan's conclusion regarding all this vitriol: "This story does reveal some of the virulence and anger and violence that lies beneath what has become a political cult. And her public statements that someone like Joe McGinnis may be a sexual threat to her children or is a "freak" and her constant invocation of victimhood are not helpful in this kind of incendiary context. This woman commands forces out there that are truly terrifying and violent."
I'm not convinced. Without underplaying the seriousness of death threats, or denying that Palin is a polarizing figure (is there such a thing as a non-polarizing figure right now?) I would hazard a guess that it's less about Sarah Palin's followers specifically than that the comments sections on websites in general frequently sound like terrifying and violent places. What it sounds like is that the Mat-Su Valley Frontiersman just got a (apparently surprising) dose of the sort of comments that one can frequently find on the more trafficked political sites. Perhaps it's also worth noting the Frontiersman allows anonymous comments with very little registration, meaning commenters never have to own up to their own words. Andrew Sullivan, for what it's worth, allows zero comments.
Have a tip we should know? tips@mediaite.com