Know Your Friends: Rick Perry Calls Influential Conservative Hot Air Blog 'Hot Gas' On CNN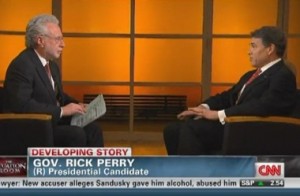 It turns out that Texas Gov. Rick Perry doesn't just have trouble remembering lists of three. In an interview with CNN's Wolf Blitzer Wednesday afternoon, the forgetful former frontrunner had trouble remembering just one conservative website, the Michelle Malkin-founded, Ed Morrissey-run Hot Air. Discussing a possible path to victory in Iowa, Perry told Blitzer he had seen a poll "off the internet. I think 'Hot Gas' was the site."
RELATED: At GOP Debate, Rick Perry Can't Remember Third Agency He Would End As President
For those of you completely unfamiliar with the world of conservative blogs, this would be the equivalent of a Democratic candidate blanking on the name of a site like Media Matters, or MoveOn.org. For those who don't know anything about blogs…well, go ahead and vote for Perry, I guess. He was referring to a Hot Air reader poll, which, I'm guessing, he won't do nearly as well in next time they do one.
Perry also made a rather offhand, extremely off-color reference, telling Blitzer that it's "Newt's time in the barrel."
Considering that phrase's NSFW origin, it's an odd choice for a guy who's loudly opposing gay everything these days.
The Texas Governor has been turning up the heat the past few days with an intense culture-war attack on President Obama, but if he's trying to woo conservative voters, he ought to try and learn what they're reading. Now, excuse me while I go check out RougeCounty.com.
Here's the clip, from CNN's The Situation Room:
Have a tip we should know? tips@mediaite.com